Wednesday 13 Interview: Horror Films, Halloween & Heavy Metal
Ahead of his UK shows, the gothic superstar talks about influences and new music.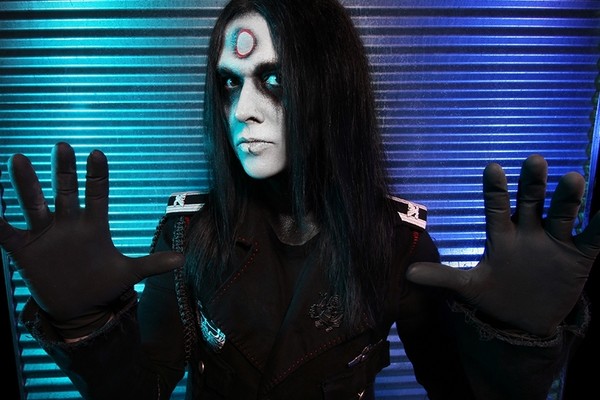 In many ways, heavy metal is to popular music what the horror genre is to blockbuster cinema: a dramatic, niche and oppositional style – with a dedicated cult following – that goes directly against the more happy-go-lucky positivity of mainstream entertainment.
No artist fits this sentiment more than Wednesday 13, whose elaborate repertoire is crafted through a mix of volatile punk, grooving metal and cheesy horror flicks from the mid-20th century.
Owing just as much to Frankenstein and The Munsters as other rock 'n' roll frontmen do to Queen and Metallica, the ex-Murderdolls singer is currently flying high with a gloriously campy and over-the-top solo career, where riff-driven heaviness is paired with macabre imagery directly inspired by Universal monsters and vintage B-movies.
Sandwiched between the morbid death metal masters of Memoriam and Bloodbath, Wednesday 13 provided a deliciously dark party when performing on the main stage of Bloodstock Festival in Derbyshire. After a dazzling set, he and I got to chat about his love of horror, metal, punk and cartoons, as well as his upcoming Halloween spectaculars in the UK this October.
Matt Mills: "You've just wrapped up a very elaborate and over-the-top show on the main stage of Bloodstock. When you're writing your music, do you often write with that stage show in mind, or does that aspect always come afterwards?"
Wednesday 13: "It usually comes along at about the same time. Usually, if I get an idea for a song and I like it and really start working on it, it'll turn into 'Ah, cool, I can see me doing this onstage, this'll look good.' There are certain songs where I've done that; there are certain songs where I've had no idea."
"I read in a recent interview that you grew up on a diet of old horror movies and Saturday-morning cartoons. It's obvious how the horror movies have influenced your performances, but have those cartoons influenced you in any way too?"
"I think the sense of humour that goes along with the songs is from the Saturday morning stuff. I always try to have a tongue-in-cheek kind of thing where it's not so serious. That's why I named our first record Songs of Death, Dying and the Dead: it's all tongue-in-cheek the way The Munsters and The Addams Family would poke fun at it. So that's the Saturday-morning cartoon vibe that we have along with it. And then the horror movie thing is the theatricality, the dressing and the make-up."
"With that horror-inspired theatricality, it feels like there are two varieties of that in metal: those like yourself and Alice Cooper that use it to make a fun, party vibe and those like Watain that just try to scare the hell out of everyone. Have you ever wanted to make that leap into creating something more threatening and scary?"
"No, not at all. I think it's fun to take the show on a rollercoaster ride, but always leave the people at the end happy with a good-time feel. You can still leave them walking away thinking 'What the f—k? That was crazy!', but I don't really have any need to go to that extreme. I like the way we do it: I like taking them into a scary room and then at the very end going 'Hey, it was just a show. Enjoy the party!' and riding out on a fun note."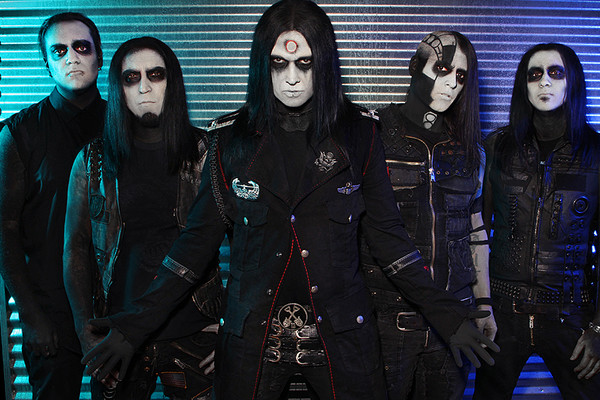 "And you're obviously playing two London shows for Halloween this October. What will fans get at those shows that they didn't see today?"
"One of the nights [26th October], we're doing our Skeletons record: it's the ten-year anniversary, so we're gonna play it in its entirety along with some other tracks. The following night, my band's going to perform a full set of my old band, Frankenstein Drag Queens. Being that it's Halloween weekend, we're all gonna dress up in the old attire and all that. We're gonna dress up like my old band and play the old songs, just for the first time, because a lot of people have never heard those songs live. I haven't heard those songs live in fifteen years! So it'll be fun to bring that out and I think a lot of fans are gonna enjoy that."
"Throughout your career, you've made music that rides the line between heavy metal and punk rock. Growing up, did you fit into both of those subcultures, or were you more of a metalhead or more of a punk?"
"I was kinda in the middle. I liked punk stuff, but I didn't like all the punk stuff; I liked metal stuff, but I didn't like all the metal stuff. I liked Anthrax; I liked Slayer, but I wasn't really into the death metal bands. I am now. It's weird how my taste has changed. I liked the Sex Pistols and I liked the Ramones, but I didn't like every single punk band: I wasn't really a Black Flag fan. I am now. So I think when I started making my music, it's been punk, but it's always had this metallic edge to it. I just play what I know and hope people enjoy it, and I have had a really awesome career so far and we're about to record the eighth solo album."
"How far along are you with the next album?"
"We've scheduled to go into the studio in December to start recording it. We each have our own ideas and we've messed with a few ideas together, like a couple of songs we've had in the bag for a while. This is the very last show of the [Condolences] tour, so we go home for a couple of weeks and then we're all getting together for a few weeks to bring in our ideas. We're actually going to sit down each day and write songs and demo it out. Then we're going to spend October and November writing the lyrics, adding all the guitar parts, tweaking everything [and] deciding if they're good enough. Then we will hit the studio in December with, hopefully, the final track listing and go from there. So we have three months to prepare and get everything going, which is more than we usually do."
Condolences is out now via Nuclear Blast Records.
Wednesday 13 will play two special Halloween shows at London's Garage on the 26th and 27th October.
Read more about this year's Bloodstock Festival in our "10 Things We Learnt at Bloodstock 2018" list.
We need more writers about Wednesday 13! Get started below...
Create Content and Get Paid
---
Matt Mills
Writer for Metal Hammer, WhatCulture, Prog and more. Film student at the University of Winchester. Owner of many, many denim jackets. Follow me on Twitter and Instagram: @MattallicaMills
See more from Matt