Rafa Benitez
sport
Manager's departure expected to be announced in a press conference this evening.
4 Jan 2016 James Hunt
sport
Could Ibra be on his way back to Spain?
7 Jul 2015 Gareth Hinton
sport
Rafa Benitez giants say Lucas Biglia would be the "ideal signing"
29 Jun 2015 Matthew Brown
sport
How do you solve a problem like Brendan?
4 Jan 2015 Ross Tweddell
sport
Who could replace the second longest serving manager in the Premier League?
29 Dec 2014 Simon Gallagher
sport
sport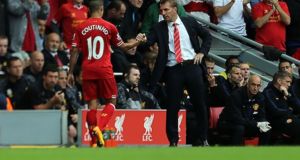 Reds boss keen to keep small squad together.
20 Dec 2013 Jamie Clark
6 Dec 2012 Mikey Colville
sport
3 Dec 2012 Simon Gallagher
sport
2 views
Barca club president Sandro Rossell has a huge job on his hands replacing Guardiola. So let's help him out shall we?
27 Apr 2012 Matt Holmes
Who do we think could turn it around for the Wearsiders...
1 Dec 2011 Kyle Gammon