The Simpsons: 10 Secondary Characters Voiced By Harry Shearer
Shearer voices over 180 characters in Springfield…
The bulk of The Simpsons' expanded universe is voiced by four people: Hank Azaria, Nancy Cartwright, Dan Castellaneta, and Harry Shearer. This article will focus on the second main-voice actor who does not voice a member of the Simpsons' household: a founding member of Spın̈al Tap and former cast member on Saturday Night Live, Harry Shearer.
Shearer has been on The Simpsons since the very beginning, voicing neighbor-ino Ned Flanders in the very first episode "Simpsons Roasting On An Open Fire." All told, Shearer voices over 180 characters in Springfield: some of those characters are one-offs, meant to deliver one line and then move on; some were created as one-offs, but were brought back time and time again; and some have grown with The Simpsons, both the TV family and the TV show.
These 10 Secondary Simpsons' Characters Voiced by Harry Shearer are characters who rarely appear for more than a scene or two in an episode, instead showing up to tell a joke, make a comment, or move along the plot. So, no Ned Flanders, no Principal Seymour Skinner, no C. Montgomery Burns, and- by default- no Waylon Smithers (all four considered main characters.)
10. Rev. Timothy Lovejoy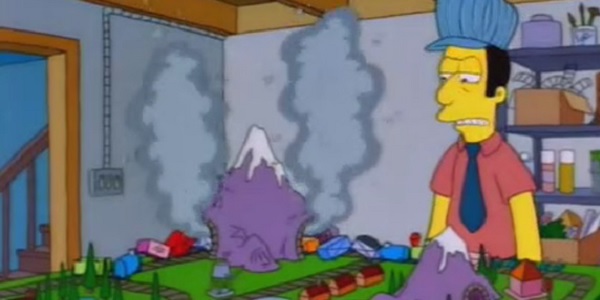 First Appearance: "The Telltale Head," Season 1.
The pastor of the First Church of Springfield is Rev. Timothy Lovejoy, a very disillusioned clergyman, one who is more concerned with his model trains then helping the members of his flock.  His sermons leave much to be desired, and Shearer's baritone, slow drawl adds to the tediousness of talks based on piousness and obedience. His love for leading his flock was ended by Ned Flanders, whose constant phone calls ("I think I may covet my own wife!") caused Lovejoy to just stop caring.
Funniest Moment: Lovejoy in the Simpsons' house, counseling Marge on her marriage problems.
Lovejoy: "Get a divorce."
Marge: "But isn't that a sin?"
Lovejoy: "Marge, just about everything is a sin. Have you ever sat down and read this thing? [Holds up The Bible.] Technically, we're not supposed to go to the bathroom."