5 Companies That Would Want To Buy WWE
Rumours hit late last week that AMC were interested in purchasing WWE. Although that seems unlikely, we answer the question of who really could buy Vince McMahon out.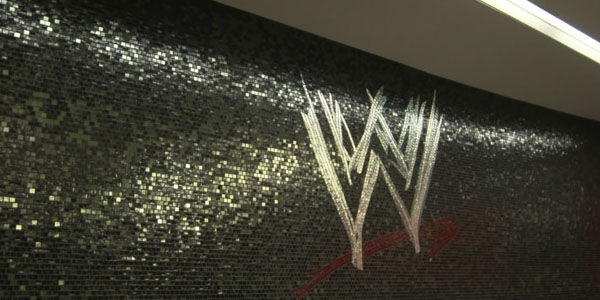 Over the past four months, as the $WWE stock price has soared, rumors have swirled about World Wrestling Entertainment. There has
been wild speculation on the value of the new domestic TV Rights
deals and
how many people have signed up for the WWE Network
. They€™ve even been wild gossip
involving a merger or takeover
. (As explained below, this is really baseless - Vince McMahon controls the company's voting shares so there can't be a hostile takeover.) The concept of WWE being run by someone who wasn€™t in the McMahon family might feel like anathema to wrestling fans. Still, consider how many times we've seen Vince McMahon driven by his personal preferences and random whims. Think about the failing projects that have continued - just out of a perverse desire to "stick it" to his critics. WWE makes for an attractive acquisition. Assuming someone could convince Vince to sell, what sort of firm would be a likely buyer? And which specific WWE segments would make them so desirable? So, before we review the potential buyers, it's important to explore two key elements - how WWE makes their money and how WWE has structured their public company.
Background On WWE Financials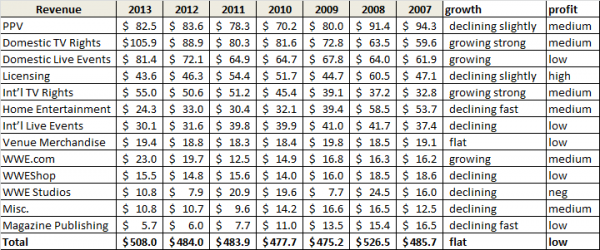 Over the past seven years, the growth areas for WWE have been TV Rights, Domestic Live Events and WWE.com. Meanwhile, the struggling areas that have been Home Entertainment, International Live Events, WWEShop, Magazine Publishing and WWE Studios. There€™s a big x-factor with the WWE Network. It had an audacious break-even point but it€™s being distributed as an over-the-top service which is very future-forward. There€™s a substantial opportunity for growth and viewership reengagement as well as a number of risks associated with start-up costs and revenue cannibalization. It€™s difficult to peg how transformative this segment will yet be to the overall WWE financial setup. Still, if you ask investors today what is driving the stock surge it's really two things: promise of a huge TV Rights deal and potential of huge Profit from the new WWE Network. Seasoned wrestling analysts tend to be more pessimistic about both having lived through previous television negotiations and studied costly ventures (WBF, The World Restaurant, XFL, etc.) that didn't pan out. But under the right circumstances and right support, there's substantial hypothetical upside to the WWE which is why the company may be attractive to an outside buyer, particularly one whose experience meshes will with core pieces of WWE's business model. WWE revenue each year is hovering around $500M. A large increase in the TV rights deal would likely boost that number considerably for 2015 and beyond.
Background On WWE Share Structure
As a publicly traded company WWE has two classes of Stock: Class A and Class B. When John Q. Public decides to buy $WWE Stock, they're buying Class A shares. The Class B shares are controlled by the McMahon family - either directly or in trusts set up on their behalf. As of February 2014, there were a grand total of SIX holders for all Class B shares.
There are about 75 million total shares of $WWE split between 31.3 million Class A shares and 43.8 million Class B shares. While only controlling slightly more than half of the total shares, Vince McMahon retains control of the WWE because his shares have more voting power. As explained in the
Annual Report:
We have Class A common stock and Class B common stock. The holders of Class A common stock generally have rights identical to holders of Class B common stock, except that holders of Class A common stock are entitled to one vote per share, and holders of Class B common stock are entitled to ten votes per share.... In addition, the voting power of Mr. McMahon through his ownership of our Class B common stock could discourage others from initiating potential mergers, takeovers or other change of control transactions.
To be Class B shareholders you must be in the McMahon family:
If, at any time, any shares of Class B common stock are beneficially owned by any person other than Vincent McMahon, Linda McMahon, any descendant of either of them, any entity which is wholly owned and is controlled by any combination of such persons or any trust, all the beneficiaries of which are any combination of such persons, each of those shares will automatically convert into shares of Class A common stock.
There Cannot Be A Hostile Takeover
In other words, while WWE is a "public company", more than 90% all of the voting rights are controlled by the Class B shares which rest solely with Vince McMahon and his family. There cannot be a "hostile takeover". The only way that another company could purchase the WWE would be if the McMahon's voluntarily were to relinquish power to an outside entity. As a proud, stubborn and headstrong man, it seems quite unlikely we'd see Vincent Kennedy McMahon give up the keys to the World Wrestling Entertainment Castle under any circumstances outside dire financial trauma. However, in an extremely unlikely situation that WWE were to change hands or take on a significant partner, here's a profile of the groups that would seem to have the most vested interest in obtaining a piece of the company, or reshaping their operations.
Chris Harrington
I'm a professional wrestling analyst, an improviser and an avid NES gamer. I live in Saint Paul, Minnesota and I'm working on my first book (#wrestlenomics). You can contact me at chris.harrington@gmail.com or on twitter (@mookieghana)
See more from Chris