CM Punk: What Happened WWE Chicago Raw (And What Does The Future Hold?)
I was there on Monday, March 3rd in Chicago. I was there for the same reason as almost every fan…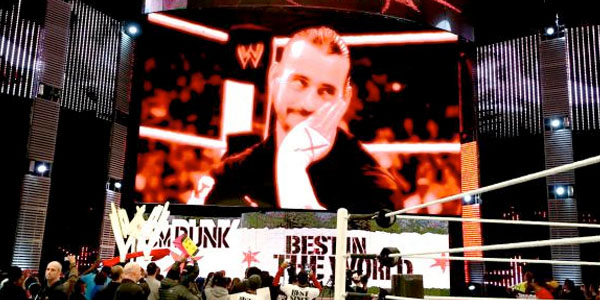 I was there on Monday, March 3rd in Chicago.
I was there for the same reason as almost every fan in the Allstate Arena. I was there for a moment. If we're honest with each other as wrestling fans, we watch the product for moments that transcend the business. Sure, we all have favorite characters. We all enjoy great matches, we all enjoy talented wrestling, or memorable promos, or intriguing storylines, or any combination of the aforementioned. But rarely do all combine to create a moment. Rarely as fans do we get to see the culmination of a perfect storyline involving a beloved character in the perfect setting.
One such moment happened during the 2011 Money in the Bank pay per view in Chicago, when CM Punk not only won the WWE Championship, but subsequently walked out of the company with it, through the crowd. On Monday, the stage was set for another such moment. CM Punk had not been seen or heard from on WWE television since the Royal Rumble in late January, and the possibility of him emerging from a five-week hiatus in Chicago was too tantalizing to dismiss. Was Punk really gone for good? Was this all some elaborate work, right from the start? Is Punk upset with management's handling of his role? Was he unwilling to work the Wrestlemania angle the company had provided for him? Is he burnt out, simply needing some time off? These rumors (and many more) circulated the internet regarding his return, and the fans were worked into a frenzy long before RAW ever went on the air.
Everything was perfect. The moment was there to be had. There's only one problem.
It didn't happen.
In the aftermath of such an emotion-filled RAW, fans leaving the Allstate Arena all had one question on their minds: What happened? The answer, it turns out, is neither simple nor straightforward. And it's entirely possible we'll never know the real reasons as to why Punk didn't show at last night's RAW in Chicago. But we do have enough facts to delve into the situation and form rational opinions not only as to why the Second City Savior was absent, but what drove him away in the first place.
A close analysis of RAW from Chicago reveals many intriguing things about the status of CM Punk, so we'll start there, but we'll finish with the reasons behind his departure, and the outlook for the future of CM Punk.
And, believe it or not, it all started with the RAW Pre-Show…