WWE: Fandango Dumps Summer Rae For Layla
One year ago, Fandango was one of the hottest characters in WWE. Everybody remembers the night after WrestleMania 29 when…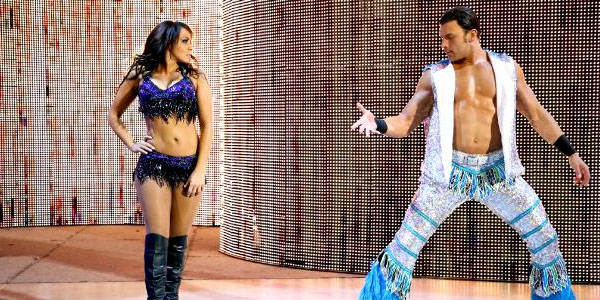 One year ago, Fandango was one of the hottest characters in WWE. Everybody remembers the night after WrestleMania 29 when the New Jersey crowd did the Fandango song. It made him a huge name one night after he beat Chris Jericho in his first WrestleMania match. Over the course of the next year, Fandango fizzled to the point that he became just another midcarder.
A positive of the Fandango character was the addition of his valet, Summer Rae. Summer was hired by WWE as a model that they hoped would develop into a wrestler. She really worked hard at it, became a force in NXT and made it on the main roster as Fandango's valet. The role was perfect for her.
Over the past week, Summer and Fandango broke up over Twitter. Yes that's right, Twitter. WWE used the social media service to facilitate a storyline breakup between the dancing fool and his hot friend. Why couldn't they find time to do it on television? No idea. That's probably what they should have done. Instead, Twitter was where they broke up.
This Friday night on Smackdown, Fandango had a new dance partner with him: Layla. She's been with WWE since she won the Diva Search in 2006, so she comes with a lot of credibility as a Women's and Divas Champion. Layla also fits the role perfectly because she has a background as a dancer as part of the NBA's Miami Heat dance group prior to her career in WWE.
Part of the reason for the change is that management appears to be really high on Summer Rae. The 30 year old former model (real name Danielle Moinet) has a very bright future in the ring, so it makes sense to remove her as Fandango's valet. Layla certainly can continue her in-ring career, but when you're paired up with Fandango the in-ring career does take a back seat. It's more about the dancing for her now.
Now that she's free of Fandango, Summer will be able to thrive in the role of a diva on her own. It's likely that she'll turn heel out of the angle. It makes sense since she got dumped on Twitter by a heel. Fans would be sympathetic about that.
It was wise of WWE to pair Summer up with Fandango because it allowed her personality to grow a bit. Now that she's going to be on her own, it can continue from there and if it works out she can become a Divas Champion sooner rather than later.