WWE Finally Release JTG
Did WWE just forget JTG was still employed when they made their initial firings today?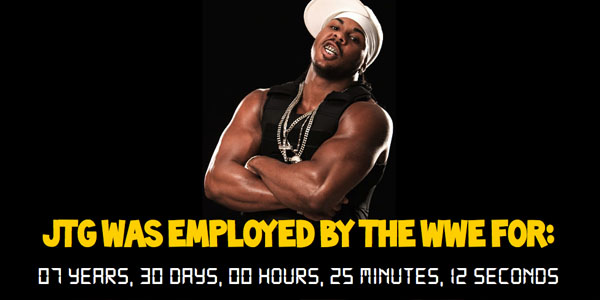 You can add JTG to the list of superstars officially released by the WWE today.
The former member of Cryme Tyme had been with the WWE for the best part of eight years but the countdown clock has finally stopped ticking. This website, setup in jest because no matter how worthless JTG had proven to be with the company and how little he was ever used (some modern fans may not even know who he is), counted his miraculous stay with the company and had been up-and-running for a few years now, but it crashed just moments after his release was made public.
The superstar tweeted about his release;
Vince McMahon and his officials undertook their "Spring Cleaning" by relieving 11 names from their contracts today. It's unknown whether any more are due.
Here is the updated list of firings as of now:
Aksana
Marc Harris (referee)
Drew McIntyre
Curt Hawkins
Jinder Mahal
Teddy Long
Evan Bourne
Camacho
Brodus Clay
Yoshi Tatsu
JTG
Speaking of Hawkins, he also took to Twitter to relent his frustration about being let go from the WWE. He replied to a tweet from birthday boy Mark Henry, who put a picture of him online proclaiming he once again avoided release after 18 years with the company.
Amidst the chaos surrounding WWE today, Hawkins may already have bookings in other promotions. Of those interested in Hawkins, Beyond Wrestling, Jersey Championship Wrestling and Pro Wrestling Syndicate have expressed a likeness to the former Tag-Team champion.
WWE may not be done releasing talent, as the process sometimes last a couple of days.