WWE: NWO Vs The Shield At WrestleMania 30?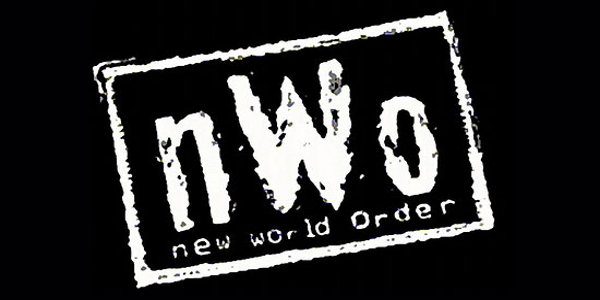 Another year brings another batch of fresh NWO/WWE rumours to the masses.
The Examier.com
kicked it with off with the following;
"a source close to WWE programming spoke exclusively with WWE Examiner on Thursday to reveal what could be a bombshell development in World Wrestling Entertainment. Although the source cautions that the report has not be confirmed by Vince McMahon personally, it is believed that the WWE Chairman may have recently spoken with WWE legend and current TNA frontman Hulk Hogan about making an appearance at Wrestlemania 30 next April in New Orleans."
Wow! Okay this is a big one. And although it is not surprising, as every year there are reports of either Sting finally coming to the WWE for a match with The Undertaker or something that involves the NWO, they never fail to shock me. These wild rumours are always wrong, as they are a result of fan booking or just plain untruths being peddled for site hits. I want to look at why this will never happen and also why these rumours always gain ground. http://youtu.be/h-zhlw_hnGU The last run of the NWO in the WWE was passable at best, complete with unmemorable matches and boredom from fans. 2002-2003 saw a huge decline in WWE audience figures and began the final death of the Attitude Era. Yet this has not stopped a longing for a black and white return to WWE screens from a worrying number of fans, as for some reason the NWO are still seen as a viable draw by some long time wrestling fans who buy into these rumours. This report in fact calls the timing of this reunion "perfect." I have no idea why. First, some context. For those that do not know, the NWO was a faction in WCW. They started in 1996 with the formation of "Hollywood" Hulk Hogan, Scott Hall and Kevin Nash based on an angle from Japan. It pushed the boundaries of pro-wrestling at the time, drew huge ratings, changed the way we see wrestling forever and it was also a huge reason that the WCW was a major success in 1996-1998. That said, it became a major factor for the decline of WCW and the reason that many talent left WCW for the WWE (WWF at the time) causing the eventual closure of the company in 2001. This stable, like WCW, has been dead for twelve years. Why this is peaking now? I assume this is due to the location of Wrestlemania 30, New Orleans. This was a big WCW base for years. Also, the fact that the WWE Hall of Fame inductions have yet to be announced. It fuels wild speculation, and the allure to drop the NWO name is too appealing from some not to do. For sure the 2013 WWE Hall of Fame is set to feature the late great Paul Bearer, but the addition of Hall, Nash and Hogan would be an earth-shattering announcement. This
"exclusive report"
continues:
"According to knowledgeable insiders at WWE, the company is elated with the recent efforts spearheaded by WCW legend Diamond Dallas Page to restore the good health of Scott Hall. Not only does Kevin Nash reportedly have a good relationship with WWE, Scott Hall is said to be healthier and happier today than he has been in the last ten years...With regard to Hogan, however, it's anyone's guess as to when the Hulkster's contract with TNA expires."
Right, some major issues with this already. Hogan is heavily involved with TNA, as their figurehead and current on screen œber-face who is set to tackle (and more than likely defeat) the Aces & Eights group with Sting. This is their huge angle for the foreseeable future, so Hulk is going nowhere anything soon.T his report claims that the "rumour is that Hogan is displeased and would love nothing more than to return to WWE, ideally to make appearances on behalf of McMahon's company for the rest of his life." It is true that Hall is sober and healthier, but a return to the ring now? That doesn't seem like a good idea, and I doubt he would pass the tough riggers of the WWE wellness policy. Nash would be the only viable free agent for this angle, but again, why? What is the point bringing Nash, or any of these guys in? According to the "source" in this report, it is to set up a "dream match" scenario for Wrestlemania 30 with The Shield! And every part of that is crazy. A heel vs. heel match at Wrestlemania with three guys out of their prime and one very green Roman Reigns? Do you see how dumb this is? This is a series of groundless, wild and regressive rumours. While I love The Shield (Dean Ambrose, Seth Rollins, and Roman Reigns), and they were very impressive in their Wrestlemania debut this year, this would serve nobody. Everyone would lose in this scenario: the WWE, the Fans and The Shield! The WWE have learned their lesson with the NWO, and moreover putting the NWO anywhere near Wrestlemania. Their 2002 run was a massive flop, Scott Hall had a crucible of personal issues, Nash failed to do anything during his 2003 push and Hogan outstayed his welcome. And all of that was over ten years ago, now they are even less of a draw. Doing this would only push more fans away, like it did last time. I know, as I was one of them. http://youtu.be/_gUkNrNv830 For all those wanting this, I cannot put into words how bad this would be. So I won't. Please watch 2010 TNA programming. This featured "The Band" angle A.K.A. the whole NWO thing without the licence, archive footage, the talent or the interest. It wasn't pretty and underscores what an awful idea touching this group in modern time is. Also why the WWE will not go along with bringing them back, ever. I have saved the craziest part of this rumour for last...
"The Shield is so hot today that some within the WWE believe the gimmick can be milked for another year, leading to the group's first decisive defeat at Wrestlemania 30 against Hulk Hogan, Scott Hall, and Kevin Nash."
What? This is so ridiculous that I don't even need to say anymore. But just to clarify, the WWE spends two years building up The Shield as a huge and powerful group that could contain three future stars of the company only to kill the group to a nostalgia act from the WCW in a heel vs. heel match? Prepare yourself for more of these rumours as Wrestlemania 30 draws closer. It is the same pattern every year. I could be wrong and this could happen, although something tells me this is false and just another product of the IWC rumour mill. That said, at some point a Hall of Fame induction for the "Bad Guys" is on the cards, but a match with The Shield is certainly not. Let me know what you guys think in the comments below.
Darragh O'Connor
Roman Historian, computer nerd, Freelance Journalist, Podcaster, Star Wars Fanboy, and a Sci-fi/Horror über fan with a soft spot for awesomely terrible films. Host of the weekly Wrestleview International Desk radio show on WViDesk.com. Feel free to follow me on Twitter @DarraghWV.
See more from Darragh