WWE: Payback Lineup Set; WWE Title Announcement Coming?
This week's edition of Raw was the last episode before WWE Payback this coming Sunday in Chicago. The full card…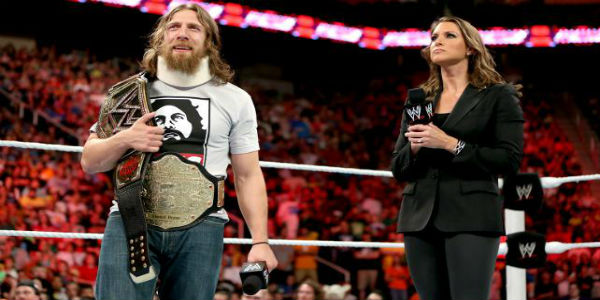 This week's edition of Raw was the last episode before WWE Payback this coming Sunday in Chicago. The full card for Payback looks to be set now after the announcements of several matches.
In addition to the matches, we will see a segment where Daniel Bryan has to decide if he'll give up the WWE World Heavyweight Championship or if Stephanie will fire his wife Brie Bella. It's a good way for them to involve Bryan on the show while he's still dealing with an injury. There's still no clear indication of what WWE is going to do regarding Bryan's title(s), but they are continuing the storyline at Payback.
Here are the matches that are announced:
– Evolution vs. The Shield in a No Holds Barred Elimination Match. It will end only when three guys from one team are eliminated. It's a rematch from Extreme Rules.
– John Cena vs. Bray Wyatt in a Last Man Standing Match. It's their third PPV match in a row.
– Sheamus vs. Cesaro for the US Title. Based on what happened on Raw, Sheamus is going into it with a head injury.
– Bad News Barrett vs. Rob Van Dam for the Intercontinental Title. Barrett's got a lot of momentum. RVD is just a veteran for him to beat.
– Paige vs. Alicia  Fox for the Divas Title. Fox actually lost to Emma, which is a weird way to build her up. She did snap after the match to get her heat back, though.
– Hornswoggle vs. El Torito in a Hair vs. Mask match is on the Kickoff Show. Their second straight PPV with a match on the pre-show. Somebody in creative has a little person fetish.
Those are the six matches that are official, but it looks like three more will be added based on events from the past few weeks:
– The Usos vs. Luke Harper & Erick Rowan for the tag titles. They've been feuding for the last month. Time to put the tag titles on the line.
– Rusev vs. Big E. They had a confrontation on Raw that Big E won. They'll likely face off at Payback.
– Adam Rose vs. Jack Swagger. That one has been building for a couple of weeks. It seems inevitable at this point.
It's unlikely that other matches will be added because that's nine counting the pre-show. The Bryan/McMahon segment will probably get more time than a lot of the matches, so it's a full show.
We will continue to cover any other breaking news about the Payback lineup for this Sunday's show taking place in Chicago.