WWE: The Undertaker Wanted To Lose To Brock Lesnar At WrestleMania
The Wrestling Observer is reporting that The Undertaker felt Brock Lesnar should end the streak when talks were first held…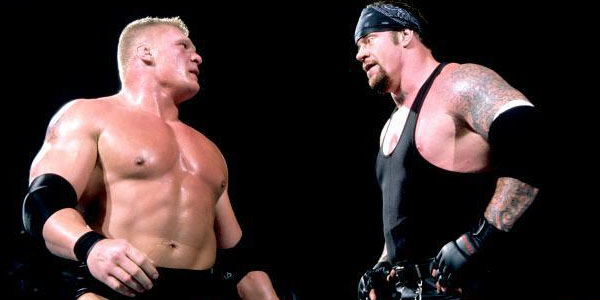 The Wrestling Observer is reporting that The Undertaker felt Brock Lesnar should end the streak when talks were first held over a feud in 2010.
Undertaker believed it would be the right thing for business, however, nobody took it seriously.
Lesnar and Undertaker did a worked shoot around the time of this suggestion, the infamous face off at UFC 121 during Ariel Helwani's interview with Taker. In the end no match ended up being put together, despite the buzz from the face off, Lesnar was still a UFC contracted fighter. Ironically, that 10 second face-off did more in the way of promotion that any of the last two months heading into WrestleMania 30. WWE has really dropped the ball with Taker vs Lesnar, they should definitely have played up the past face-off and previous Taker / Lesnar in-ring wars. The build for WrestleMania 30 has been distinctly poor.
In analysing Undertaker's belief Lesnar should end the streak, it has to be taken as somewhat of a surprise. Maybe it was thought at the time that Brock could be brought back under a full time deal in that scenario. It's hard to believe that Undertaker would willingly end his streak against a part timer. It would however have been a mega draw match. Lesnar was still a huge name in this period, a box office sensation. Undertaker perhaps wanted to bow out and end the streak on the biggest limelight possible. The 2010 version of Brock would have guaranteed that.
Does all this suggest that Undertaker envisions losing the streak at some point? Could he still be wanting to put Brock over when the two finally meet at Mania 30? It seems unlikely on both those questions. The WWE shot Taker's loss idea down, and at this stage, he will probably retire undefeated at some point in the next few years.