Win Deus Ex: Mankind Divided Collector's Edition For Xbox One
1 lucky reader's chance to win.
5 years to the day after the release of Deus Ex: Human Revolution®, Eidos-Montréal brings the long awaited sequel to players. With more than 100 awards and nominations before launch, Deus Ex: Mankind Divided builds on the franchises trademark choice and consequence, action-RPG based gameplay, to create a memorable and highly immersive experience. Available on PlayStation®4, the Xbox One all-in-one games and entertainment system from Microsoft, and Windows PC, Players will once again take on the role of Adam Jensen, now an experienced covert agent, and will gain access to his new arsenal of customizable state-of-the-art weapons and augmentations.
Action follows the aftermath of the Aug Incident, an event which saw mechanically augmented citizens all over the world stripped of control over their minds and bodies, resulting in the deaths of millions of innocents. With the year now 2029, the golden era of augmentations is over and mechanically augmented humans have been deemed outcasts and segregated from the rest of society. With the reasons of crime and terrorism being given as reasons for control over the future of mankind, With time working against him Adam must work against the clock to unravel a vast worldwide conspiracy.
Head of Studio at Eidos-Montréal, David Anfossi remarks about the release "Deus Ex is one of the most beloved franchises in the game industry, and working on it for nearly 10 years has been a huge responsibility and a tremendous privilege...With Deus Ex: Mankind Divided, we aimed to bring the franchise to another level, with the goal of giving the fans the gaming experience they have all been waiting for".
The get your hands on this fantastic Collector's Edition for Xbox One simply submit your name and address details to contest@whatculture.com, remembering to quote 'Deus Ex' in the subject line. As well as a basic copy of the game the fantastic Collector's Edition also includes:- Exclusive Black and Gold Prism Box. - "Desperate Measures" extra in-game mission - Covert Agent Pack (Intruder Gear, Enforcer Gear and Classic Gear 1 Praxis Kit 1000 Credits)- Digital Novella, Comic Book, Artbook, & OST Sampler - 9" Adam Jensen Figurine - 48 Page Titan Art Book - Limited Edition SteelbookCompetition closes on 14th September 2016.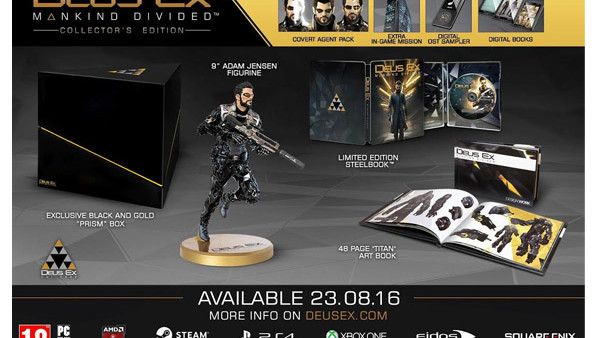 Create Content and Get Paid
---