Win R.I.P.D. On 2-Disc 2D And 3D Blu-Ray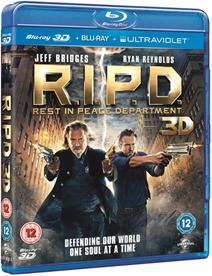 To celebrate the release of supernatural action-adventure
R.I.P.D.
on 2-Disc 2D and 3D Blu-ray" combo and DVD €" both with UltraViolet" €" on the 20th January, we're teaming up with Universal to give 5 lucky winners the chance to get their hands on a copy of the Blu-ray" combo! After cop Nick Walker (
Ryan Reynolds
) loses his life in a warehouse shootout, he is recruited by the Rest In Peace Department (R.I.P.D.) €" a police force assembled from the spirits of the greatest cops that ever lived. Acting as an invisible guardian, to ensure that the dead stay dead, Nick must patrol and protect the world below from the 'Deados,' a destructive army of creatures who refuse to move peacefully to the afterlife. Nick accepts the challenge and joins his new partner Roy Pulsipher (
Jeff Bridges
), a grouchy but skilful ex-U.S. Marshal from way back in the 1800s. As the job begins, the cops are assigned identity disguises, so that they can appear on earth as living humans. The results are hilarious, as Nick is transformed into a frail old Chinese man, whilst Roy is seen as a drop-dead gorgeous leggy blonde. To be in with a chance of winning
R.I.P.D.
on 2-Disc 2D and 3D Blu-ray", just answer the following question... What does
R.I.P.D.
stand for? € Really Independent Police Department € Rest In Peace Department € Rise In Problems Department
©2014 Universal Studios. All Rights Reserved