10 Awesome Star Wars Ideas That Nearly Happened
9. Chewbacca Is Interrogated By Kylo Ren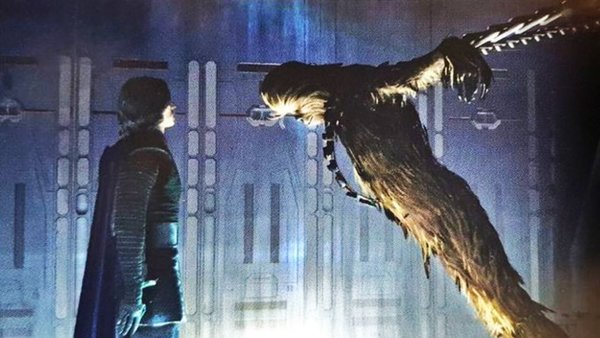 While many of the concepts and plans occupying this list unfortunately never made it past the discussion over a coffee stage, Kylo Ren's intense interrogation of everyone's favourite Wookiee was actually fully shot for use in a live action feature.
However, acting as yet another Skywalker Saga editing casualty, Ren's torturing of Chewbacca in what would eventually become The Rise of Skywalker was likely deemed "too dark" for the PG-13 ninth entry in the Episodic film series, according to Chewie actor Joonas Suotamo.
As the towering thespian would note in his book Roar! - My Life as a Wookiee, scene partner Adam Driver went all-in on the scene, psyching himself up to be "a real monster through it all". Suotamo would even reveal that Driver was so convincing at times in the scene that he became genuinely scared about what was heading his way when the cameras began to roll.
Ultimately, the safer decision to simply have Chewie be captured before eventually being rescued by Finn and Poe was opted for instead, depriving fans of a beat that, while admittedly unsettling, could've added some much needed edge to an otherwise bland greatest hits compilation.