10 Unforgettable Harry Potter Outfits
It's fair to say Ron's outfit for the Yule Ball wasn't very satisfactory...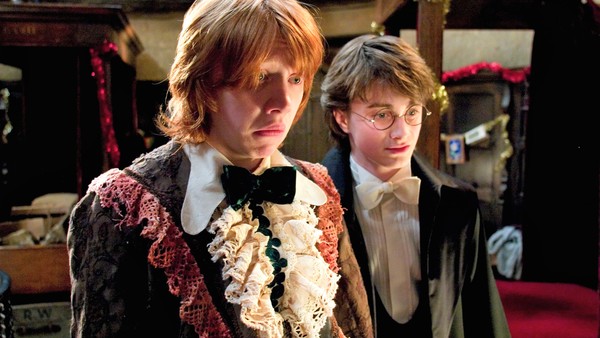 As with most other fantasy stories, J.K. Rowling's world was crammed with memorable places and personalities. Each entry in the series added more layers to her story and made her fictional world even more fascinating.
The movie adaptations excelled at bringing Rowling's world to life. Whilst it's a shame not every aspect of the books made it onto the big screen, the overall tone of the adaptations was spot on.
In addition to the fantastic set designs, casting choices, and prosthetics, the costumes were always well executed. Every outfit helped to compliment the character it was designed for whilst simultaneously remaining true to the aesthetic of the world.
Celebratory events – such as the Yule Ball or Slughorn's Christmas party – contained plenty of eye-catching costumes, but there were also several characters whose everyday outfit was hard to ignore.
Though Harry Potter is best known for its relatable characters, gripping plotlines, and accessible magic system, the various outfits used throughout the series deserve plenty of praise as well. Indeed, some of the costumes in the adaptations were so good they far exceeded Rowling's original descriptions…