Advertising Feature
10 Artists Who Highlight Romania's Budding Art Scene
"Art is the most intense mode of individualism that the world has known" - Oscar Wilde
You may be forgiven for thinking the prospect of continental beer and contemporary art doesn't exactly go hand in hand. However over in Romania Grolsch keep a watchful eye over their online platform, launched in 2010, which has been designed to give budding artists the chance to share their work and be part of a wider community The
experimentalist.ro
platform has proven hugely popular since it was launched over 5 years ago. Since its inception it has seen literally hundreds of artists being given the chance to showcase their work, and the exposure it€™s afforded giving them the chance to grow and develop their skills. Grolsch looked at the successfulness of the portal they had created, and decided in 2015 that it too needed to take inspiration from the very artists it features, and grow in to something more. Wanting to move away from simply being a sharing platform between fellow artists, Grolsch€™s dream for the site was to become more of an international gateway to Romanian arts. To signal this re-positioning, a four-day Experimentalist Gallery Events was arranged for December. The event, hosted in Bucharest, gave artists the chance to have their works displayed physically, and saw Grolsch issue a call to arms to capture the imagination of artists from around the country.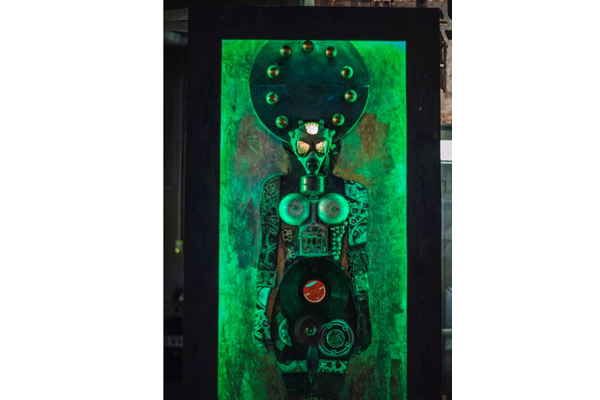 Calling on artists, creators, and visionaries to submit their work, and become part of a movement to highlight the talent and colourfulness that exists in Romania€™s art world, over 100 people applied to be part of the event and have their work shown. 30 of those artists were chosen to have their work displayed, alongside a variety of other features including 3 live art acts from 3 of Romanian€™s most popular artists, an interactive corner giving visitors direct access to the experimentalist.ro platform. Oh and there was the added bonus of free Grolsch for all!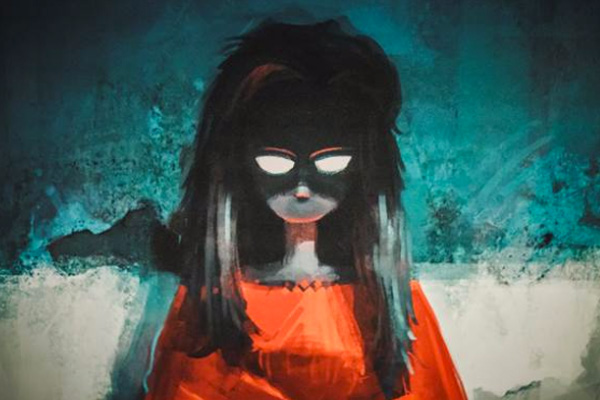 To see how the event went down check out the video above, or visit
here
to see pictures of the gallery opening. There certainly seems to be a plethora of talent coming out of the Romanian art world, and so we decided to take a look at some of the most inspiring modern art works which can be found on the platofrm. Click €˜next€™ to see some of the best examples we have found€
10. Urban Metamorphosis
The talented Taddeo Moise has successfully created a project which effectively gives urban locations in Bucharest a refreshing make over. The city has been hit hard with the struggles of Communism and contemporary artists, as well as the future generations are trying to rebuild the city in a different light, which is what Moise has achieved through this project. Using a double exposure technique, Moise has been able to perceive the older buildings of the city in a new light, creating an urban metamorphosis. It also inspires an atmosphere of hope with his creative flare.
9. The One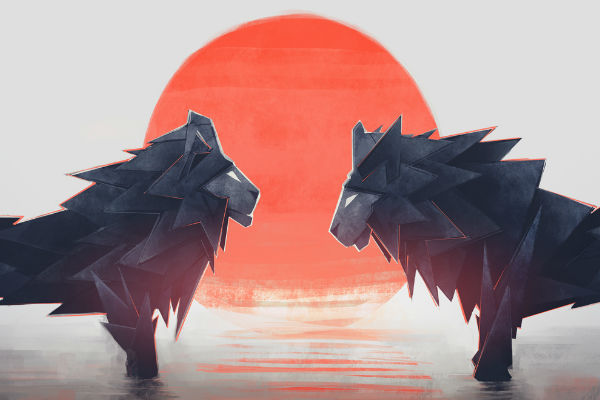 Razvan Dumitru uses these regal creatures to demonstrate a distinct emotional connection between two people who are drawn together by a force that is not tangible. Whether it's love, respect or some sort of attraction, sometimes words aren't needed to convey emotion. This powerful image of the two opposing lions coming together and meeting in the middle, with the Sun in the background exudes a mutual understanding. It is important that they are meeting in front of the image of the Sun as not only is the colour red synonymous with emotions of love, lust and passion, but the bright light also symbolises hope and purity. This creates a different atmosphere than if Dumitur had used the Moon for example.
8. Ribcage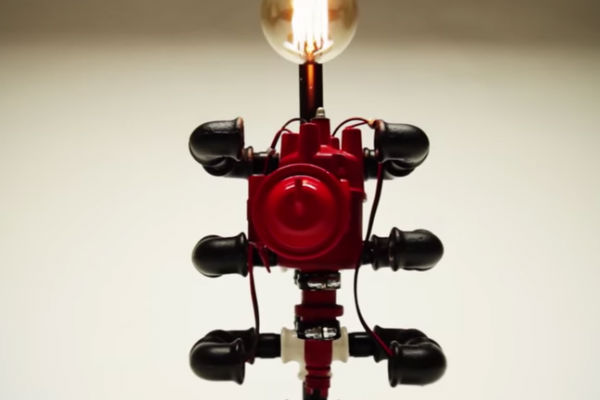 Radu Bucur has highlighted the impact of the Industrial Revolution with this piece, representing how we are constantly advancing in the fields of science and technology. He has made a Ribcage lamp, with the lightbulb representing the human brain, the heart also has a dimmer switch installed and the cast iron pipes are the ribcage. Although Bucur isn't claiming that using technology to enhance someone's life is wrong, he is simply predicting that eventually technology will take over and human life, purity and soul will fade into darkness. If mankind can eventually discover a way to create artificial life, then this Ribcage life form is simply a less advanced version of that. It has all of the components of a human body yet it does not have the purity or the natural entity in which life is formed from the womb.
7. The Destroyer
Medeea Stark addresses political and social upheavals that has plagued mankind since the beginning of time and no doubt will continue to be an issue, as well as a threat, until the end of time too. War. Destruction. Terrorism. With the advancements of modern warfare, acts of terrorism are more brutal and more devastating than ever before. We have created the technology to cause more devastation and fatalities than the Black Plague, all at the push of a button. Although Stark doesn't focus on the human fatalities caused by war and terrorism, she has created an artistic manifesto to focus attention on how the environment and historic buildings are also targeted. By bringing down these historic landmarks, terrorists are essentially erasing history and by destabilising a structure which is regarded as being solid, it can no longer stand the test of time because humans have taken that privilege away. These acts understandably cause uproar and chaos in society.
6. Curious Mermaid
Artist Alex Danila loves to create concept art and his piece, Curious Mermaid, is truly stunning. Not least in part to the more supernatural or mythological approach that he has taken with it. Mermaids, as contemporary creatures, are usually presented as goddesses; women who are almost too beautiful and look too perfect to be human. They are often regarded are Sirens, to lure and seduce men to fall in love with them so that they may feed off their life force. However Danila has taken a more traditional approach and created a juxtaposition which portrays a 'true' mermaid as an actual sea creature, discovering unnatural, man made objects in her under water home. Although she looks more alien to us than what we are used to seeing, her expression and somewhat guarded position shows that she is just as weary of these alien objects that she has discovered. Although she clearly possesses a human upper body, her tail is more similar to the movement of a shark. Based on the title and the subject of the piece, Danila is almost giving us permission to accept that we are curious creatures and that we are allowed to explore depths and places that we are not familiar with.
5. Valentine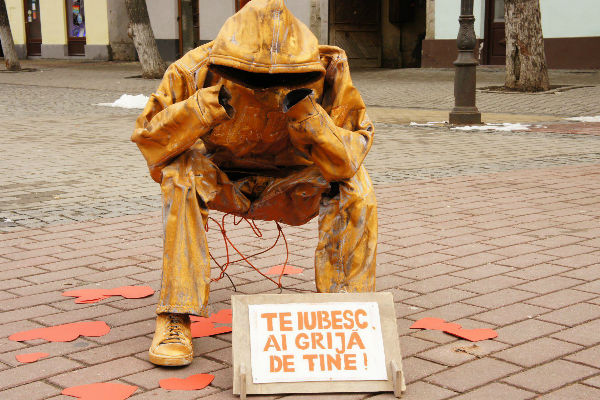 Mind Fk is a street artist who regularly creates work that some people may find disturbing, but this is simply his way of commenting on the state of society from his point of view. Take his piece Valentine for example. This depicts what appears to be a man hunched over, clearly in a distressed position with the hood covering his face, and his hands raised to his head. He is standing behind a sign which translates as 'I love you, take care.' As this is left open to interpretation, the name of the piece indicates that this is obviously a romantic love which has turned toxic and this can also be aided by the clothes that the figure is wearing; they look like a radiation or biohazard suit which could indicate that the relationship has turned sour and therefore the couple have fallen out of a healthy relationship. The simple message could be a sign off or the final words that he wants to say to the other person as it implies that the relationship is ultimately doomed, as would any potential friendship between the two. Sometimes, love isn't enough.
4. Colourful Balet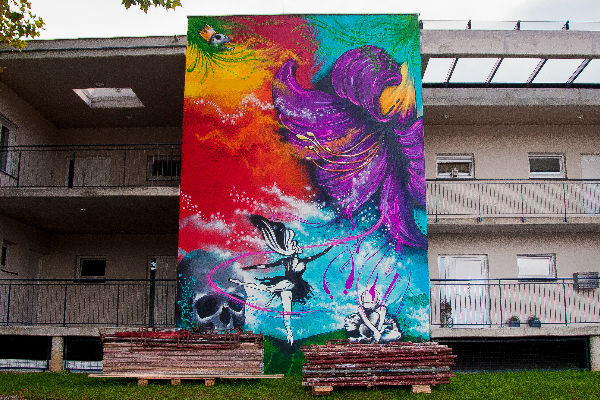 Artist Sys Scissors' project is based on the thrill of colours and how an individual's personality can be expressed through art, specifically with vibrant colours. However, every person, regardless of sex, age, gender or circumstance, bring bright light and warmth into the world through their different colours.
3. Accomplishment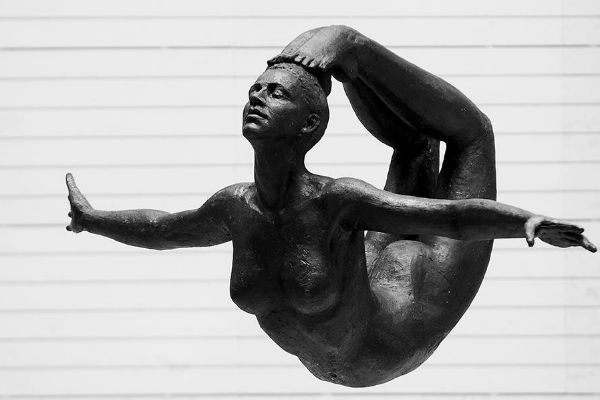 'Accomplishment' is a sculpture created by young Romanian artist Andra-Simina Mocanu. She was only twenty two years old when the sculpture was installed in the National Library of Romania in June 2015. The piece is made entirely from black fiberglass and it weighs approximately 18kg. The artist graduated from National University of Arts Bucharest in 2016. This beautiful sculpture by Andra-Simina Mocanu depicts 'accomplishment' through the woman creating a circle by connecting her feet with her head. By bringing these two opposing parts of the body together, it symbolises the journey of beginning and end - ultimately the beginning and end of life. The purpose of this position is to emphasise the journey that the body endures during life and how at the end, we are reunited with the divine one. The journey itself, or life, is the accomplishment as the body begins to recall its true nature. The cycle has been completed.
2. Toxic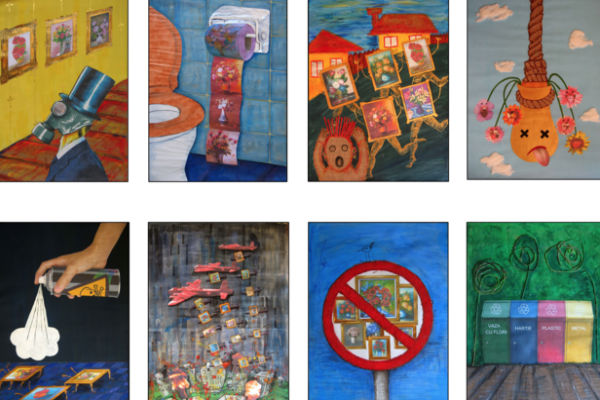 Normally when one thinks of flowers, one is inundated with images of romance, nature and sometimes the air around you smells fresher. Flowers are a symbol of Mother Nature's beauty and of love, as they are usually given to those who are dear to you. Quite pointedly artist Raluca Sfetea disagrees, and she can't stand them being so overused in art. She believes that they are 'Toxic' and this idea has inspired her latest collection of 'Toxic' images. She thinks that flowers are toxic, not only to art, but to the mind and soul. Society paints this image of them being beautiful and therefore they are considered to be the epitome of beauty, so when artists think of nature, they portray the beauty of the flower; their tenderness, their pleasing scent and how this beauty can impact a human. You give a girl and flower to apologise for your mistakes and she'll forgive you, because she's been brought up to see them as a symbol of peace during a time of war. However,
"The world and art is more than flowers in a vase." Sfetea
1. Concert Photography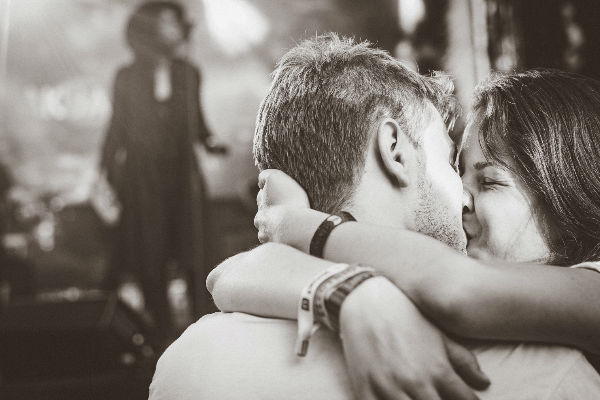 What is so special about Boboc's project is that he also focuses on how the audience resonates with the band during a concert, and doesn't solely concentrate on the musician; he concentrates on the the environment and atmosphere that they can create as well as the relationship that the audience has with the music. In the photograph above, the couple are happily embracing one another with the band featured in the background. By moving the focus on this simple yet intimate moment from one couple in an audience of thousands, the photographer has captured a truly magical moment; a moment of clarity amongst a sea of people. Boboc's project allows him to take photos of some of the biggest music concerts in the world, and the fact that he's been able to concentrate on something so little amongst something so big shows his keen eye for observation, and for art.