15 Awesome Adult Halloween Games
Drink, anyone? Games aren't just for kids at Halloween.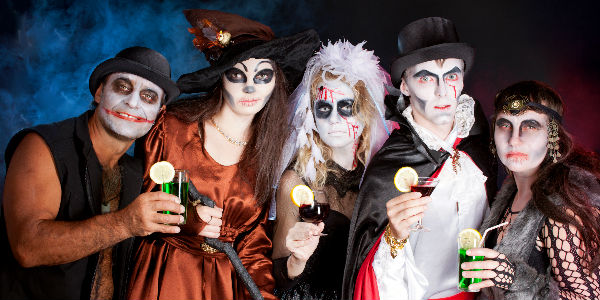 Halloween isn't just for kids. There's a certain playful, mischievous feeling in the air towards the end of October which makes it just that little bit more socially acceptable for adults to mess around and behave childishly. It gives people the perfect excuse for dressing up in ridiculously gory costumes or as their favourite fictional characters. Halloween is a time for people to let loose and forget their inhibitions. People tend to be a lot more laid back in a costume. We guess it's kind of hard to take yourself seriously enough for social anxiety when you're dressed as the 8 ft tall tree from Guardians of the Galaxy. So, if you're not going out clubbing or at some high-class soirée this Halloween and you're looking for some light hearted fun, this list should provide you with plenty of inspiration for things to do. There are loads of ideas here to keep you occupied during an evening of horror-themed shenanigans. Whether it's quick drinking games or an entire themed evening, there's something to suit all tastes. Have fun, and remember; always drink responsibly. We will not be held responsible for any injuries or hangovers sustained as a result of playing the games in this list.