25 Mind-Blowing Facts About Vladimir Putin
A £45 Billion fortune, a judo black belt and an affair with a spy...
Vladimir Putin has been top dog in the Russian Federation since the turn of the millennium, despite the fact that for four of those years he was not even the President.
Having assumed office as Acting President on December 31, 1999, following Boris Yeltsin's resignation, Putin was then elected to two four-year terms before he stepped down to allow his protege Dmitry Medvedev to take over. However, despite Putin having stepped down as President, Medvedev installed him as Prime Minister - only for the roles to reverse once again in 2012, with the former re-elected to the top office.
Such has been Putin's dominance over the nation that he has been accused of moving Russia from the liberal democracy established following the dissolution of the Soviet Union in 1991 back towards an autocratic state. Accusations of vote-rigging at elections, the passing of anti-liberal laws and the invasion of neighbouring territories in Ukraine and Georgia have even led many political commentators to label Putin as a modern-day dictator.
Fascination surrounds Putin, and rightly so because he has led an intriguing life. From beginning his career as a member of the secret police on foreign land, to inspiring an online comic superhero - not to mention his rumoured personal fortune and his reported affair with a Russian spy - Putin really has lived a captivating life.
So, here are 25 mind-blowing facts about the undisputed ruler of Russia.
25. He Spent His Childhood Hunting Rats In An Apartment Block

Putin was born into a poor Soviet family in Leningrad (now St Petersburg) and he lived in a communal apartment block with his parents, siblings and three other families. In his official biography, the Russian President revealed he spent his spare time hunting rats on the stairwell. Explains a lot really...
24. Putin Earned A Black Belt In Judo Because He Was Slow To Start Puberty
By the age of 18 Putin had achieved a black belt in judo - something he refers to as a "life philosophy" - and he still practises the martial art during his spare time. Interestingly, Putin - who also trained in the Russian martial art Sambo (or
Samozashchita Bez Oruzhiya
) - revealed he took up judo in order to "keep his place in the pack" and not be bullied because other male teenagers had started puberty before him.
23. He Has Two Daughters But Keeps Their Lives Top Secret
Putin has two daughters - Mariya Putina and Tekaterina Putina - who were both born in Dresden, East Germany, in the mid-1980s. However their existence has remained almost completely secret since - little-to-nothing is actually known of them. No official family photography has ever been produced, and the Russian media have never published any pictures of them.
22. He Has Several Pet Dogs And Used One To Scare German Chancellor Angela Merkel
The Russian President loves dogs and keeps several as pets - and he also uses them as political devices to scare the German Chancellor, Angela Merkel, it seems. It was alleged in January 2007 that Putin brought his black labrador, Koni, to Sochi for a diplomatic meeting with Merkel - knowing full well she is petrified of dogs, having been bitten by one as a youngster - in order to intimidate her. The meeting - involving discussions over Russia's supply of energy to Germany - ended with Merkel nervously commenting: "Now the dog is going to eat the journalists..."
21. Putin Went Scuba-Diving For Ancient Greek Jugs
In August 2011, during one of the countless photo ops Putin undertakes every year, the Russian leader "discovered" ancient Greek vases while scuba-diving in the Black Sea. However, two months later his chief spokesman admitted that the footage of Putin collecting two fragments of 6th Century BC Greek Jugs - in which he grabs them in clear water and declares "the boys and I found them" - was actually staged. Apparently the jugs had been discovered earlier by archaeologists and deliberately placed there for Putin to "recover".
20. He Sang Jazz For Kevin Costner And Gerard Depardieu
In December 2010, Putin took another opportunity to perform for his adoring Russian public - this time by signing a rendition of Blueberry Hill in front of a star-studded audience at a charity event in St Petersburg. Putin also attempted to play From Where The Motherland Begins, a Soviet-era song, on the piano but hit a wrong note and stopped. Amazingly, the crowd at the event included a host of famous faces - with actors Kevin Costner, Gerard Depardieu and Sharon Stone among them.
19. The 12 Labours Of Putin
In one of the most-bizarre true new stories of 2014, to honour the Russian President's 62nd birthday, a one-night-only art display of "The 12 Labours of Putin" was created by an artist who adores his nation's leader. An ode to the 12 labours of Hercules - in which the ancient Greek mythical legend killed the Nemean Lion and captured the Cretan Bull, among other things - Putin is depicted shooting down American warplanes with a bow and arrow, as well as strangling a terrorist with his bare hands. In other bizarre 62nd-birthday tributes, a 2,000-foot-long Russian flag was created by Grozny natives who stood on the streets of the town dressed in different colours, while a huge banner with a cartoon of US President Barack Obama wearing a Putin T-shirt was hung from a bridge. They Russians really do love Putin, don't they?
18. Putin Helped To Put Out Wildfires In The Russian Countryside By Co-Piloting An Aircraft
In another publicity stunt in August 2010, Putin co-piloted a fire-fighting plane in order to help put out hundreds of wildfires in western Russia. The wildfires, in the Ryazan region, had covered Moscow in a huge smog but Putin pressed the button which dumped hundreds of litres of water on to the affected areas to help calm them down.
17. His Grandfather Cooked Meals For Vladimir Lenin And Joseph Stalin
The Russian leader's paternal grandfather, Spiridon Ivanovich Putin, was a cook for former Bolshevik premier Vladimir Lenin at his country house, Gorki. Following Lenin's death, Spiridon Putin continued working for the Soviet leadership - and even prepared several meals for Joseph Stalin at one of his many dachas around the Moscow region.
16. Putin Worked As A KGB Agent And Spied On The West
For 16 years Putin worked as an officer in the KGB (the Committee for State Security), spying for the secret police agency in East Germany between 1975 and 1991. Putin's primary job was to recruit foreigners in Dresden in the hope of sending them as undercover agents to the USA. While the Berlin Wall was falling in 1989, Putin even burned KGB files as a mob tried to enter the agency's headquarters in Dresden. He moved back to Russia in 1991 and left the agency with the rank of lieutenant colonel.
15. Putin Is A Fluent German Speaker But Is Nervous At English
Having been posted to East Germany, Putin became fluent in German and regularly converses in the language with Angela Merkel. However, Putin is less competent at English. He does have conversational English but lacks confidence in speaking the language publicly, only doing so on a handful of occasions.
14. You Can Buy Putinka Vodka and PuTin Canned Goods
If there were ever any doubts about how highly Putin was held in his home nation then the fact that his name and image has been used to advertise several products should put them to bed. T-shirts bearing images of the Russian leader, as well PuTin canned food, Putinka Vodka and
Gorbusha Putina
caviar, are sold throughout the nation. Putinka is made by the state-owned Moscow Distillery Crystal company, while the PuTin brand of vegetable-and-mushroom canned goods - which has a logo featuring a T-shaped sword, similar to the KGB symbol, dissecting the actual name of the product "Puin" to create "PuTin" - are produced by the Astrakhan Canned-food plant. Let's face it, who doesn't want some Putin souvenirs?
13. He Believes Same-Sex Marriage Is Akin To Satan-Worshipping
Putin is a devout Orthodox Christian and he stringently holds to the traditional values of the church - with often-controversial results. One belief Putin holds is that same-sex marriage is akin to Satan-worshipping - and argued in a speech in September 2013 that Russia must avoid following European countries who were "going away from their roots" by legalising gay marriage and allowing for excessive "political correctness".
12. He Has Given Birth To A Series Of "Putinisms"
The Russian President loves to provide a soundbite. In fact, so regularly does he provide memorable quotes that he has given birth to a large number of catchphrases which have been dubbed "Putinisms". Examples include: "Ploughed like a slave on a galley" - When asked in 2008 to describe his work during his eight-year presidency, Putin's reply included the verb "to plough", which in Russian slang means "to toil hard". "To bump off in a toilet" - A Russian slang term, in 1999 Putin used it to promise he would destroy terrorists wherever he found them, including in the cubicles... "Shearing a pig" - When asked why he had not extradited US whistleblower Edward Snowden in 2013, Putin said he would not be drawn on the issue because "it's like shearing a pig - lots of squeal but little wool".
11. Putin Has An Alleged Personal Worth Of £46 Billion
Although no-one knows for sure, it has been alleged that Putin has a huge personal wealth of up to £46billion. Russian opposition politicians and journalists have alleged that Putin secretly owns huge stakes in numerous Russian companies, adding to his supposed hidden wealth. It is believed that Putin owns at least 11 luxury watches (worth a combined £500,000) as well as 20 villas and palaces, nine of which were built during his time as President. What's more, one of those mansions - dubbed "Putin's Palace" - is being constructed in Italianate style near the Black Sea village of Praskoveevka and is allegedly costing £750million to build.
10. Putin Is A Huge Fan Of The Beatles
His own fondness for singing may have already been revealed, but it has also been claimed by those close to Putin that the Russian premier loves The Beatles. Paul McCartney is his favourite member of the 1960s pop group - with Yesterday his most-loved track. Not Yellow Submarine, then?
9. In 2014, Putin's Russia Was Joint-136th On The List Of World's Least Corrupt Countries
In Transparency International's "corruption perception index" of 2014, Putin's Russia was ranked 136th out of 175 in terms of "least corrupt" nations. That put Russia joint-level in the corruption stakes with Kyrgyzstan, Lebanon and Nigeria with a score of 28 - one less than the year before. Cuba, Bolivia and Burkina Faso were among the nations deemed less corrupt than Russia.
8. He "Saved" A Television Crew From A Tiger Attack
While walking in the Ussuri nature reserve in eastern Russian back in 2008 during a mission to help save the endanger Siberian tiger, Putin supposedly rescued an accompanying television crew from being mauled by one of the animals by shooting it with a tranquilliser dart. However, the state-television-offered story has since been called into question - with environmentalists claiming the tiger, named Serga, was driven hundreds of miles from the city of Khabarovsk to the nature reserve before being "shot" by Putin. Supposedly Putin had helped to nurse the animal back to health, but it has also been alleged that Serga died as a result of this "publicity stunt". What is clear, however, is that Putin certainly looks cool in camouflage gear...
7. He Is The Hero In An Online Comic Series Called "Superputin"... In Which He Personally Fights Terrorists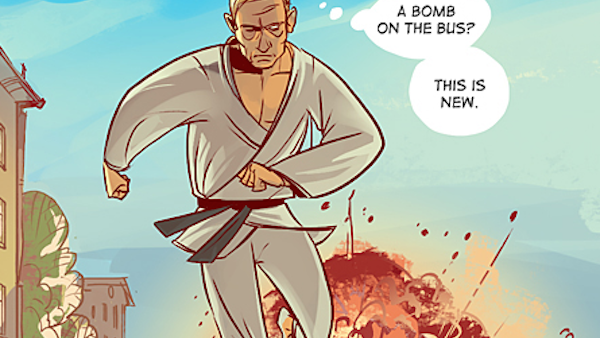 Russian writer Sergei Kalenik began an online comic series in 2011 named "Superputin" - in which the Russian President saves his nation by judo-chopping terrorists. Putin is depicted as a superhero who fights the twin evils of public protest and terrorism - and in one episode even stops a bomb from blowing up a bus, while in another he destroys an army of zombies. In the mad world of Vladimir Putin, you simply wouldn't bet against this actually being true...
6. He Stated That The Dissolution Of The USSR Was The "Greatest Geopolitical Catastrophe Of The 20th Century"
Putin infamously commented that the dissolution of the Soviet Union was the "greatest geopolitical catastrophe of the 20th Century", and even introduced the former anthem of the USSR with updated lyrics. Despite this, Putin does not want to return to socialism, branding communism in 1999 as: "A blind alley, far away from the mainstream of civilisation."
5. He Reportedly Ordered For Saliva Samples To Be Demanded From Muslim Women
Such was Putin's fear of a terrorist attack before the Sochi Winter Olympics in February 2014 that he reportedly ordered for saliva samples to be collected from religiously conservative Muslims in the North Caucasus area of Russia. The saliva would then have been used to identify body parts if suicide bombers had carried out attacks during the Games.
4. Putin Effectively Used A Constitutional Loophole To Gain Re-Election For A Third Time
Having served as President from 2000 to 2008, Putin was unable to stand for a third-consecutive four-year term due to the terms of the Russian constitution and had to leave office. His protege, Dmitry Medvedev, instead assumed the presidency, appointing Putin as his Prime Minister between 2008 and 2012. In September 2011 the Russian constitution was then altered to allowed presidential terms to be extended from four years to six and, having been out of office for four years, Putin was re-elected for a third, non-consecutive term in March 2012. The Russian constitution prohibits more than two consecutive terms, but allows for more if they are non-consecutive - unlike the terms for the American presidency, when a single person is limited to two full terms and a total serving time of 10 years. Putin has three years of his current term remaining, and could in theory extend his cumulative time as President of Russia to 24 years if he runs for re-election in 2018.
3. He Announced His Divorce From His Wife During An Interval At The Ballet They Were Attending Together
In June 2013, while Putin and his wife Lyudmila were leaving during the interval of the ballet La Esmeralda that was being performed at the Grand Kremlin Palace, they were asked why they were so rarely photographed together in public. Putin immediately responded saying that a "joint decision" had been made for them to be separated because they "practically don't see each other". He also referred to the separation as a "civilised divorce".
2. West German Intelligence Described Putin As A "Wife-Beater"
West German spy agency BND described Putin as a "philanderer and a wife-beater" during his time as a KBG agent in East Germany. A BND agent codenamed "Balcony" - due to her large breasts - supposedly became acquainted with Putin's wife Lyudmila. Lyudmila then told Balcony about her husband's many infidelities, as well as his physically abusive side. It's unfortunately quite believable, isn't it?
1. Putin Is Rumoured To Have Had An Affair With Russian Spy Anna Chapman
In 2012, rumours surfaced that sex-symbol spy Anna Chapman - who was arrested in the US in 2010 on espionage charges - had been conducting an affair with Putin. Although denied by the Kremlin, several allegations of a romance between the Russian President and the spy-turned-lingerie model have since surfaced - one of many supposed infidelities Putin committed before the end of his marriage. Another woman Putin is alleged to have had a sexual liaison with is Alina Kabayeva, the former Olympic rhythmic gymnastics gold medallist - with whom it has even been suggested the Russian President fathered a child.
Create Content and Get Paid
---