6 Reasons BBQs Are The Best
And find out all about Jack Daniel's World Championship Invitation Barbecue
Located in the small unassuming town of Lynchburg, Tennessee, is the home of one of America's best travelled and most beloved exports - Jack Daniel's. For over 140 years the original distillery has been the lifeblood of a community, which at last count consisted of less than 7k inhabitants. Whilst for majority of the time this quiet spot in Moore County sees its residents go about their working days in relative peace and quiet, and away from the global eye, there is one time of year when this changes. Drawing on Jack's own love of BBQs, every year the company plays host to a truly mouth watering competition - Jack Daniel's World Championship Invitational Barbecue. Each year a host of teams as well as individuals are invited to take part, where they are then pitted against each other in the cook off to end all cook offs, and assessed over a number of different categories; Chicken, Pork Ribs, Pork Shoulder/Butts, Beef Brisket, Dessert, Cook's Choice, and Jack Daniel's Sauce. This year Jack Daniel's invited Munchies to come along to document what was the 27th anniversary, and to get a feel of what makes the brand and this tournament so special; the focal inspiration of Jack Daniel's within the town, the people who live there and those that work make distillery what it is, the traditions of the original distilling processes which still exist today, and most of all the love of food and essence of community throughout the Jack Daniel's family. This was an unmissable opportunity for them to show the world BBQ prowess that gathers there each year. As well as getting involved within the championship itself, Jack Daniel's also opened their doors to meet Ricker Tracy Matlock who is responsible for producing the charcoal which every single drop of Jack Daniel's must be filtered through, and master distiller Jeff Arnett - only the 7th person to hold this prestigious role since the company began. You can watch this exclusive video above. And if you fancy learning more about the Jack Daniel's World Championship Invitation Barbecue, or attending next year's event take a look over at the Jack Daniel's
website
. Its really no exaggeration to say that BBQs are pretty awesome. Although winter has well and truly set in for many, the first sign of sun will no doubt see many people jump on the chance to invite friends round, share a few drinks, and throw some steak and burgers on the grill. We wanted to take a look at just what makes them so good and so here are 6 Reasons Why BBQs Are The Best...
6. You Don't Need To Wait Until 5pm To 'Start The Party'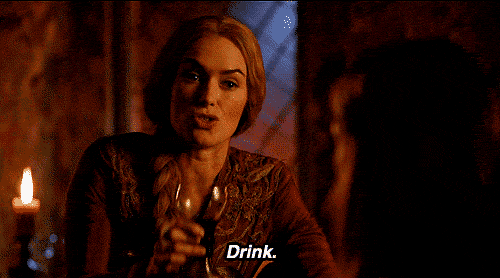 Let's face it, we've all used the saying that 'it's 5 o'clock somewhere' when we've had a really long and stressful morning at work, or on a Saturday afternoon when the kids just won't come down from their 9am sugar high. The great thing about BBQs is that 5pm is far too late to kick things off, so you don't need to worry about wondering what time is the right time to start enjoying yourself. After all, it's perfectly acceptable to start drinking some Jack Daniels and cola with your burger at 11am because those two things just go hand in hand. Top tip: Have you ever used Jack and Cola as a way to marinate your meat? No? Then you're missing out and should try it immediately. Check out the recipe for Jack and Cola ribs
here
.
5. It Gives You A Chance To Enjoy The Weather
It's no surprise that the Australians are famous (and not at all stereotyped) for being the masters of pulling off an epic BBQ, but that's mainly because they always have the weather for it. If you live in slightly rainier countries like Britain, particularly Scotland, then it's rare that you can ever plan in advance for a BBQ. This is why you have to appreciate life, and meat by the moment, so when it's glorious sunshine outside it's time to turn up the heat and enjoy the warm weather while it lasts!
4. It's The Best Way To Cook Meat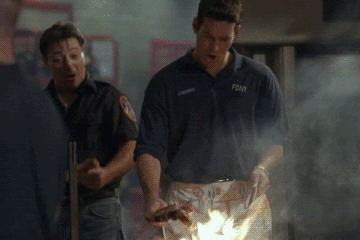 Food always tastes better when someone else has cooked it for you, but when you're in charge of your own BBQ cooking your meat to flame grilled perfection and then washing it down with some JD, it's moments like these when you realise that it's truly a wonderful life. But did you know that you can use Jack Daniels whiskey to further enhance your BBQ experience and tantalise your tastebuds? Now, we all know that BBQs focus on the meat, and that is a glorious thing in itself. But after every meal, there should be that struggle that you endure to find room in your stomach for pudding, right? If you fancy trying something new, look at how you can use some Jack Daniels to help make a delicious chocolate bourbon pecan pie
here.
You're welcome.
3. You Need Some Time To Unwind After A Long Week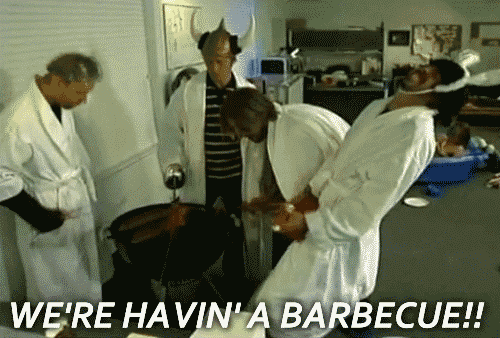 It's perfectly acceptable to have a BBQ on any day of the week, but there's nothing that quite beats the feeling of a BBQ on a Saturday afternoon in the garden, or down on the beach wearing your viking hat. The only thing you need to worry about is having an appropriate burger to bun ratio, and plenty of plastic bags to tidy up your rubbish. You don't need to be a perfect host catering to your guests' every need like you would do at a dinner party. It's a much more relaxed setting and everyone is eager to help out at a BBQ by bringing condiments, activities for the kids and of course, plenty of mixers. But as soon as you ask anyone to help you wash the dishes after a fancy dinner party, everyone magically disappears and quite literally too... they all just go home.
2. There Isn't One Person Who Doesn't Benefit From Having A BBQ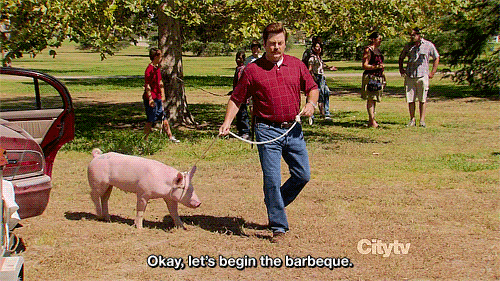 Apart from, you know, the pig... Have you ever met someone who doesn't like a BBQ? And if you do know someone who is opposed to them, then are they really a friend? But seriously, it's very rare that you meet someone who doesn't enjoy a good BBQ and there are plenty of ways to rectify this solution; simply ask them to bring food that they like. BBQs are more about the social side of things anyway because it's not as though you'd turn on the BBQ if you were by yourself. It gives the men the opportunity to have some manly conversations over the fire, and the girls can take this opportunity to put their feet up and let the men cater the group. The adults can get together and enjoy some good food, the kids are running riot (hopefully before they've eaten) and even the dogs are having a good time. Everyone wins.
1. They Bring Everyone Together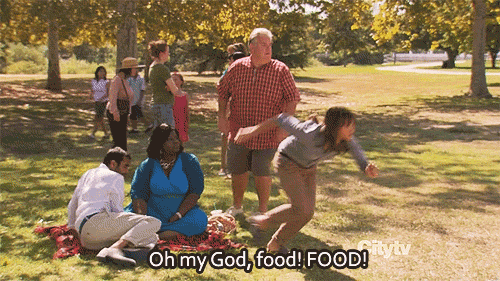 The main reason behind what makes BBQs so amazing is who you spend them with. They're a big social event that can last pretty much all day and into the early hours of the morning. You get to drink, eat and be merry with your nearest and dearest, and although there's probably some drama that creeps up every now and then, such as burning a few burgers and who ate the last hotdog, they're usually a pleasant experience. They're also something to look forward to as they're obviously more about the company than the food...
We need more writers about Jack Daniel's! Get started below...
Create Content and Get Paid
---
Jack Daniel's
Produced in Lynchburg, Tennessee Jack Daniel's is a brand of Tennessee whiskey. Globally it is the best selling American whiskey, and in 2013 sold in excess of 11million cases.
See more from Jack Daniel's