Apple iPad Mini Event: Official Spec Breakdown
Rumours have been put to bed. Apple has finally announced the iPad Mini (among other things). If you missed it, you can check it out in its entirety
here
. Now kids, it€™s time to start jumping up and down like idiots, shrieking like banshees and wringing your hands. Fanboys do so because everything Apple does is AWE-some. Haters because nothing Apple does lives up to the hype. Anyone not thusly engaged, let€™s have a look at what Apple had to show us. It was an all hardware show (with the exception of a new iBooks and iBooks Author blurb€"both free and available today). The presentation was broken into two areas, the new Macs and new iPads.
The New Macs
13€ MacBook Pro
.75€ thick 3.57 lbs 2 thunderbolt ports 2 USB 3 ports HDMI Retina display 2560 x 1600 Facetime HD camera Stereo speakers Dual mics Dual i5 or i7 €œIvy Bridge€ Intel HD Graphics 4000 802.11n WiFi Bluetooth 4.0 8GB memory Up to 768 GB Flash storage The entry level MacBook Pro starts with a 2.5GHz i5 processor, 8GB ram, 128GB SSD storage for $1699. And is shipping today.
Mac mini
Dual or Quad €œIvy Bridge€ i5 or i7 up to 1 TB HDD or 256 GB SSD up to 16GB ram Intel HD Graphics 4000 Gigabit ethernet port Firewire 800 port HDMI out 4 USB 3 ports SD card slot 802.11n WiFi Bluetooth 4.0 The entry level Mac Mini starts with a 2.5GHz i5 processor, 4 GB ram, 500GB HDD storage for $599. And is shipping today.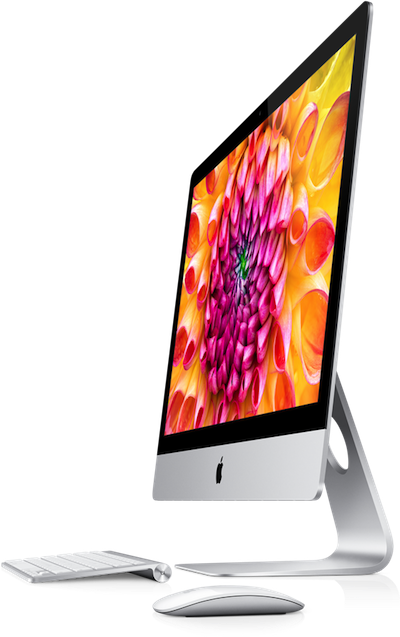 iMac
edge is 5mm thick (thicker at leg) Intel quad core i5 or i7 €œIvy Bridge€ up to 3TB HDD up to 768GB SSD up to 32GB ram 4 USB 3 ports 2 Thunderbolt ports Gigabit ethernet port SD card slot NVIDA Kepler graphics 802.11n WiFi Bluetooth 4.0 Facetime HD camera Dual mic Stereo speakers The entry level iMac 21.5€ starts with a 2.7GHz i5 processor, 8GB ram, GeForce GT 640M graphics, 1TB HDD storage for $1299. It ships in November. The entry level iMac 27€ starts with a 2.9GHz quad core i5 processor, 8GB ram, GeForce GTX 660M, 1TB HDD storage for $1799. It will ship in December. While presenting the iMac Phil Schiller talked about a new feature called Fusion Drive. It€™s not entirely clear how this works, but it is a build to order spec, which has an SSD and an HDD which are both €œfused€ together where the operating system (OS) is concerned. Over time the OS learns what you use most and will move those things to the SSD for better performance.
The New iPads
iPad
with retina display 4th Gen A6X processor Facetime HD camera expanded LTE 802.11n (2.4 + 5GHz) Lightning connector 16GB WiFi starts at $499 16GB WiFi+Celluar $629 This was the most surprising announcement. All the leaks pointed to the iPad mini, but nothing about a new iPad. Anyone who bought the 3rd gen iPad recently, that is just outside the return date, are pretty angry right now.
iPad mini
Aluminium and glass construction White with silver back or black with slate back 7.2 mm thin .68 lbs 7.9€ diagonal 1024x768 (all software works with mini) Dual-core A5 chip FaceTime HD camera 5 megapixel iSight LTE 802.11n 10 hours battery life Lightning connector New smart cover (no hinges, wraps around iPad mini) The 16GB WiFi starts at $329. Pre-orders start Oct. 26, shipping November 2 (USA) The 16GB WiFi+Celluar starts at $459. Pre-orders start Oct. 26, shipping November 16 (USA). There you have it. In the past couple months Apple has updated their entire line of products, with the exception of the Mac Pros. What€™s up with that? Is this a sign that Apple€™s putting the screws in the coffin? Likewise, what€™s up with iTunes 11? There€™s not much time left in October, and Tim did say it would be available in October. It seemed like a signifiant update, worthy of a mention at such an event. Seems curious it was not even said under Tim€™s breath. Is it getting pushed back? Hmmmmm. Regardless of whether or not the upgrades have been revolutionary, it€™s been an exciting time with all the changes coming out of Apple. Now it€™s your turn to have your say. How does the new line up stack up for you? Have you rushed out to purchase any of the new hardware/software? How has it been working for you? Let us know in the comment section below.