Tech Review: Anker's Motion+ Speaker, Icon Mini & Liberty Air TWS Earbuds
Anker's excellent, affordable answers to your summer sound needs...
Summer season for tech-loving music fans generally means looking for the best possible sound solutions to playing music outside without breaking the bank or compromising on sound quality. It's a balancing act, in other words that isn't necessarily just a matter of relying on the most advertised options.
With all that in mind, we've got three additions to the sound market from Anker to review, covering portable needs, travel needs and everyday on the go use: the Motion+ USBC speaker, the Icon Mini travel speaker and the Liberty Air TWS Earbuds.
Let's start with the Motion+...
Motion+ Review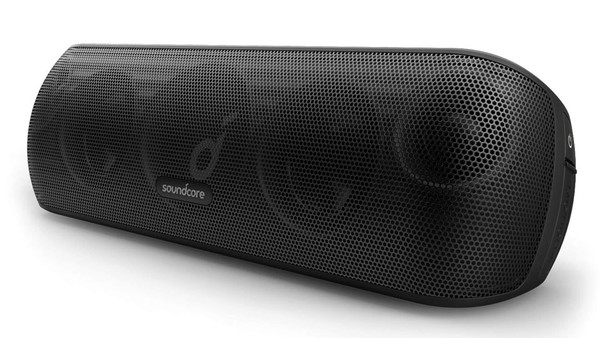 Newly launched this summer, the Motion+ is another great addition to Anker's portable speaker line. Frequent Anker users will know you're buying dependability at an affordable level and the key to the Motion+ is that it performs precisely as you'd want.
You need to look at several factors when you're buying a portable speaker: chiefly sound quality and volume, then you've got battery life and durability, of course and looks to a lesser degree. Motion+ scores well on all fronts: it's sleekly designed and fairly durable without looking like it's been heavy-armoured and it's big enough to guarantee a fair heft in sound too.
That means it's not the most inconspicuous to transport around, but it's good for garden listening and kitchen parties (let's face it, that's where you'd use it most anyway). For both, the lossless, clear sound - which doesn't distort at higher volumes (in fact the bass gets better) - is perfect. It's also waterproof for when the weather inevitably turns your barbecue into a disaster and packs in up to 12 hours of battery life (which varies in achievement depending on how loud you use it).
All-in-all, it's a good unit and very much worth the money.
Icon Mini Review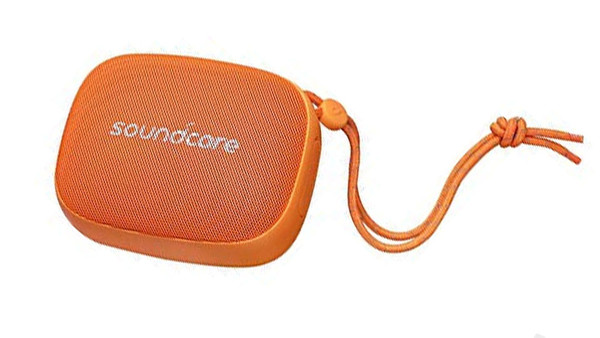 At the other end of the scale to the Motion+ is Anker's delightfuly, pretty cute Icon Mini, which has been thoughtfully designed "for adventure" in the company's own words. It's small enough to sit in your pocket or hang from a belt (crucially without pulling your pants down - which some other supposed belt-hanging devices cannot claim) or a backpack. In fact, it can hang from pretty much anything you can put your mind to and the bright orange design means you're slightly less likely to leave it hanging in a tree.
It's waterproof too, to a "hardcore" level. The claims are that it's built to withstand all manner of weather and conditions including the ocean, rain, mud, and snow. What you want to know is if the submersion claims are accurate and if heavy rain will do it in. Pleasantly, reports on both are good: it will definitely continue working after full submersion and even a couple of hours in pretty annoying rain while attached to a backpack didn't do it any harm.
To look at it, you might expect a compromise on sound quality because of the price (it's seriously dirt cheap at £31.99) and it looks pretty unassuming. But, honestly, it's great - the sound quality is great, the volume levels mean it's actually fit for purpose outdoors and you won't find any loss in bass or higher tones. Exactly what you'd want and the kind of performance you'd expect from a much more "high-end" priced unit and the battery life legitimately runs up to 8 hours on a single charge. It's a bit of a revelation really.
Definitely one to add to your travel pack for holidays, whether that's more active or a pool one. As a British festival goer, the Mini's really invaluable appeal comes in its suitability for festivals without too many concerns about rain damage. Because, let's face it, it's inevitable.
Liberty Air TWS Earbuds Review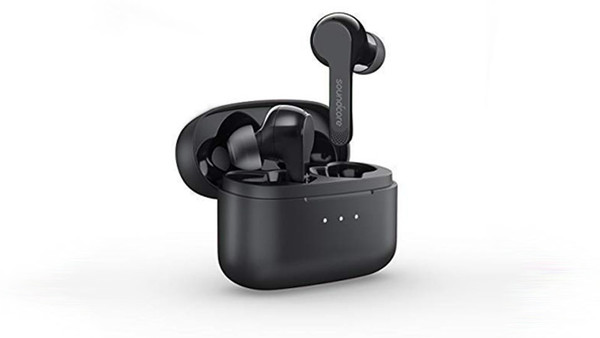 These days, airbuds are something of a luxury in that they're being used as some sort of mark of financial clout and status. That in itself tells you something about the most popular brand earbuds on the market (Apple) - they're too expensive.
The answer, then, is to look at more affordable models that will perform just as well (where possible), without leaving you bereft if you were to unfortunately lose them. At £79.99 and with very good performance - thanks, no doubt to their "Graphene-Enhanced Sound" - Anker's Liberty Air buds are another great addition to that affordable end to of the market.
In fact, they can probably claim to be the best on the market at their price. They're still not pocket change, but the slick design and feel justifies that and you're still paying for performance. So too does the 15 hours of charge life the case packs (from a 1/2 hour power-up) as the buds themselves can carry on for 3.5 hours at a reasonable volume (you want your metal loud) or longer at lower.
The fit is great (with variant rubber tips for different ears), the pairing is faultless (though it's a shame you can only pair with one device at a time) and the sound quality is very strong too with no losses. They could be louder, but maybe not everyone wants hearing damage...
In short, they're really great and the big story is they're half the price of Apple Earbuds.
Anker can be really proud of all three of these and considering you can pick up all three for just over £200, when some single units cost that much, it's pretty remarkable.
We need more writers about Anker and Tech Reviews! Get started below...
Create Content and Get Paid
---