Universal Just Announced A New Theme Park In Texas!
The family friendly park will be coming to Frisco, Texas.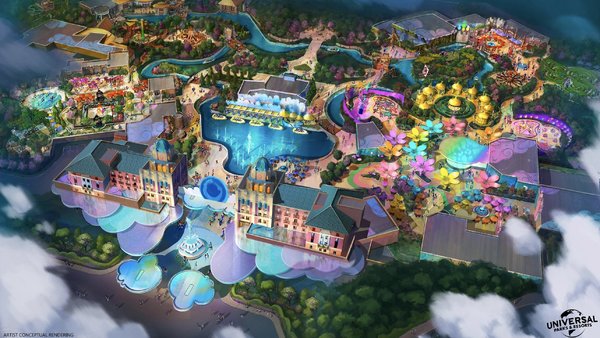 Universal Parks and Resorts have made an unexpected and exciting announcement. A brand new theme park is coming to Texas!
The new park is set to be Universal's first in Frisco and will be a park entirely aimed at younger fans. So far there's very few details been released of the park, which is set to be located around 30 miles outside of Dallas.
Universal Parks and Resorts confirmed the park will be created with families and small children in mind. The colourful concept art for the new park reveals that it will be set amongst "lush, green landscape" and feature different lands, perfect for the younger members of the family.
Universal have confirmed that the 97 acres of land will feature not just the family focused theme park but also a hotel and room for the park to be expanded in the future.
Though on a smaller scale than Universal's other US parks in Hollywood and Orlando, the company have promised that it will contain all the same "quality". With fun meet and greets, "interactive and playful shows" and all the amusing merchandise that you have come to expect with Universal parks.
Universal have huge family-friendly franchises, including Minions, Kung Fu Panda and Trolls. Having already announced that they will being bringing to life "beloved characters and stories", we are pretty sure that some of the funnest characters in animation might just make their way into the new theme park.
At the moment Universal have not yet revealed the park's name or when we can expect it open but fingers crossed we won't be waiting long to learn more details.