Universal Orlando Halloween Horror Nights: Glimpse At The Icon
Are Universal taking a Chance at this year's Halloween Horror Nights?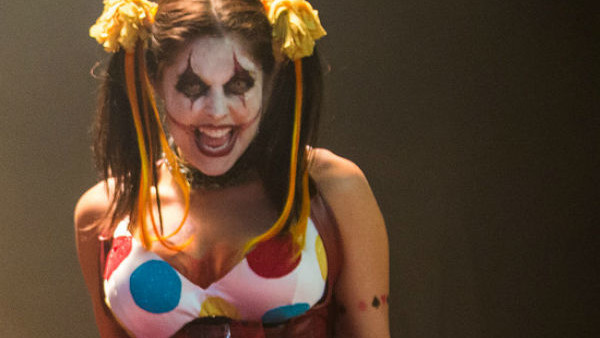 Yesterday, Universal Orlando released a teaser video for this year's Icon and left us guessing who it is going to be.
Fans are speculating that Halloween Horror Nights 26's icon will be Chance, a female clown who usually appears with Jack the Clown.
The video shows a close up of a character who appears to be wearing clown style make-up, but it is definitely different to last year's icon Jack.
The clearly recognisable harlequin print around the eyes matches that of Chance and if you listen carefully you can hear a high pitched laugh similar to her's.
For those not familiar with Chance, her look and personality is similar to Harley Quinn, the female counterpart to The Joker in the Batman Universe.
The original backstory suggests that Chance is actually a Doll come to life and has become the pupil of Jack. At last year's show The Carnage Returns, Chance played a major role as Jack's main girl. She really did get her hands dirty and was described by Halloween Horror nights creative as Jack's main "heavy".
Chance has never been seen at Halloween Horror Nights without Jack the Clown before, perhaps she is finally striking out on her own.
Universal will be revealing the true identity of the icon later today.
Create Content and Get Paid
---