10 Footballers Who Recovered From World Cup Disgraces
That Beckham fella' didn't do too badly, did he?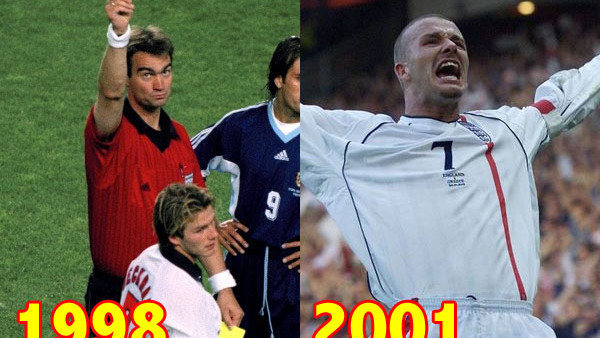 The agony and ecstasy possible in the World Cup was etched all over (the original) Ronaldo's face at both the 1998 and 2002 finals respectively. Having entered an empty performance and appearing like a tortured soul amidst off-field health concerns in France, the Brazilian reached international footy's pinnacle four years later in Japan. He's not the only one to pull his career back from the depths of despair.
There's been controversy on the field too. Some have survived media storms brought on by disgraceful behaviour to become world-class managers or Champions League winners, and others have recovered from violent outbursts nobody could explain to rank amongst the world's top strikers.
Then, there's England.
The scars of 1990 may never heal until the Three Lions of a country bitten by penalty shootout failure roar again. For the team that went to Italy that year only to lose it all against West Germany, and for the one that was similarly ousted on penalties to Argentina in '98, the feeling of World Cup pain is all too familiar.
But at least some of them had the chance at redemption.