10 Predictions For UFC 196
Conor McGregor jumps two weight classes, plus the return of Holly Holm!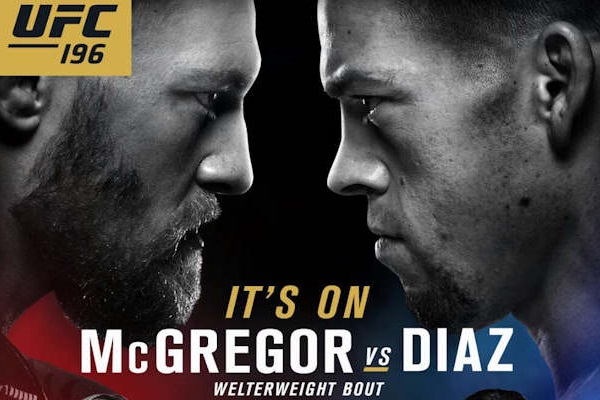 Conor McGregor returns Saturday at UFC 196 - as does the woman who beat Ronda Rousey, UFC bantamweight champion Holly Holm! It's a big night. It was supposed to be bigger, in terms of gold on the line - until Rafael Dos Anjos, the lightweight champion, pulled out of his fight with McGregor with a broken foot. That meant a chance at making history was lost: the Irish star could have been the first man in the UFC to hold two championship belts. Instead, a short notice replacement was sought out. Former featherweight champ Jose Aldo turned down the fight, despite having claimed that he would fight McGregor any time, anywhere, belt on the line or no. Frankie Edgar was hurt. Anthony Pettis and Cowboy Cerrone stepped up, but the jackpot - fighting McGregor generally means money - went to Nate Diaz. The Stockton fighter, the younger of the notorious Diaz brothers, immediately went on a foul mouthed promotional tear. And if that wasn't big enough news, the fight will be at welterweight - up two weight classes from where McGregor currently holds a title. Also on the card, Holly Holm against women's bantamweight pioneer Miesha Tate. It's Holm's first title defense in the UFC since beating Ronda Rousey, and Tate's second shot at UFC gold (the former Strikeforce champion lost her belt to Ronda Rousey, who then became UFC champ when the Strikeforce women were brought into the UFC). It's a huge night in UFC land Saturday - here's what to expect!
Jay Anderson
Covering the sport of MMA from Ontario, Canada, Jay Anderson has been writing for various publications covering sports, technology, and pop culture since 2001. Jay holds an Honours Bachelor of Arts degree in English from the University of Guelph, and a Certificate in Leadership Skills from Humber College under the Ontario Management Development Program. When not slaving at the keyboard, he can be found in the company of his dog, a good book, or getting lost in the woods.
See more from Jay