12 Times Andrea Pirlo Proved He Was Human Perfection
Those masterful feet have little beards of their own too...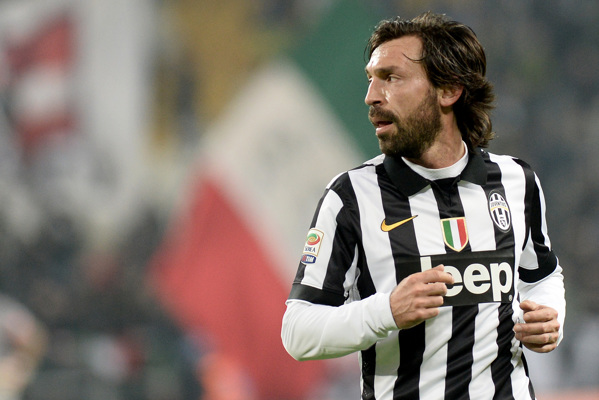 Andrea Pirlo is better than you. He is better than all of you. Physically, mentally, aesthetically, creatively, smoulderingly. Everything he is and does is a cut above you and everyone else. Ever. If there€™s a higher class of being then Pirlo is it. He is the epitome of cool; a footballing maverick in an incessant time of the footballing uber-prick. An Italian Renaissance man of style, class, elegance and superlative wit and intelligence. Not to mention being truly orgasmic to look at. And he should take his top off more often than he does. He€™s a canny footballer too. It€™s a depressing truth that the era of football-as-an-art-form is dying out, replaced by the mechanical science of pace, power and selfishness epitomised so egotistically by the current Ballon d€™Or buffoon Cristiano Ronaldo. Soulless and cold, Ronaldo€™s is a clinical and sterile science of the beautiful game that translates to roughly 400 goals a season, a bluster of jagged step-overs, pomp and hissy fits, and a consequential urge by millions of football fans for him to trip over his billion-dollar feet and knock all his teeth out. Pirlo is the opposite of this. A thinker; a philosopher of football; a non-conformist; his innovation and artistic ability with a football goes beyond the cut and thrust of the characterless sports science so prevalent in the modern game. Pirlo is dainty in his short, dancing running style, and his apparent lack of mobility is a deception balanced by his mastery of the tiniest sliver of turf, his technical skill, and unsurpassed passing and playmaking abilities. In short, he€™s a joy to watch in the most soulful of ways. And while all the hyperbolic hoo-ha is thrown the way of diminutive tax dodging master Lionel Messi and the aforementioned perma-tanned whinge-bollock Cristiano Ronaldo, The Architect quietly goes about his business on the pitch; orchestrating, conducting; an artist painting his masterpiece; ruthlessly destroying all and sunder, sauntering around the pitch in his slippers with all the subtlety of a finely woven Arduo red wine from his Brescia vineyard. All in all, our Andrea is fabulously entertaining. A footballing master, and witty, sharp and dreamy with it. Here€™s a few times he proved he is a monument to human perfection. All hail Pirlo!