20 Years Later: Why Man United's Treble-Winning Season Will Never Be Bettered
Is this the greatest achievement in modern football history?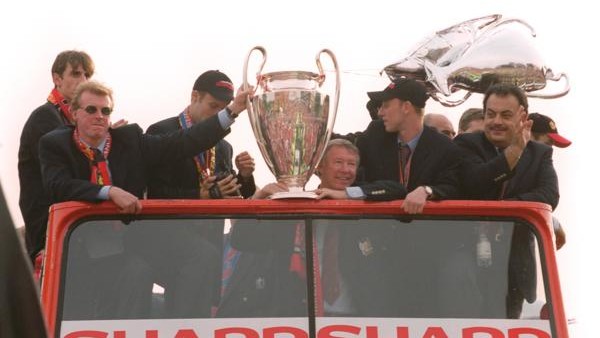 It's hard to believe that it has now been twenty years since Manchester United succeeded in doing the unthinkable, taking home the Premier League, FA Cup and UEFA Champions League trophies in a singular season.
hey succumbed to defeat just five times in sixty four matches (with two of these preventing them from adding the Charity Shield and League Cup to their collection). Alex Ferguson was knighted in the aftermath and the season remains the most successful in the history of both the club and English football in general.

Looking back, it's amazing to see how much the sport of football has changed in the last two decades. During the last full season of the 20th century it wasn't uncommon to see teams field sides of mostly British players and the £50 million transfer fee that now seems to be the going rate for one player could've bought a whole squad of superstars - indeed the combined less-than-£30m fee that United paid to secure the services of world-class Dutch defender Jaap Stam, proven goalscorer Dwight Yorke and wildcard Swedish winger Jesper Blomqvist was considered astronomical.
As we proceed further into the 20th anniversary of that fateful season, let's explore some of the moments and stories that made it so special.
9. Ferguson vs. Wenger
The 97/98 season was a tough watch for Manchester United fans. Having seen their team secure the Premier League title for the fourth time in the league's five year existence, expectations were at their usual high.
The shocking retirement of Eric Cantona was the first of many woes, as Arsenal won ten matches in a row to clinch their first championship, adding the FA Cup trophy to their collection shortly afterwards to become Double winners. This was an accomplishment that had only been achieved seven times in history at that point (twice by United and once by the Gunners).
One-sided 3-0 defeats to Arsene Wenger's side in the Charity Shield and an early league fixture in September seemed to indicate that another season of unrivalled Arsenal dominance was on the horizon. That wasn't the case, but the pair were neck and neck for the entirety of the season, with United ultimately beating their rivals to the title by just a single point.
Sir Alex Ferguson and Arsene Wenger are undoubtedly the two greatest managers to ever graced the Premier League and to fans of a certain age, the rivalry with Arsenal remains the club's fiercest as a result of their legendary duels throughout the years.
These were arguably never better than in this season, where the two squared off on five separate occasions - the two aforementioned defeats, a nervy draw in their second league encounter and the FA Cup semi-final that warranted a replay.