5 Things Man Utd Fans Need To Know About Matteo Darmian
The Red Devils have sealed a £14.4m deal for the Torino full-back.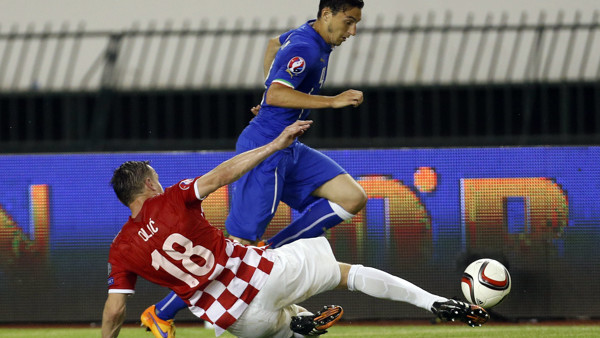 I first stumbled across Matteo Darmian on a Saturday night in Yates's bar at around 11pm. He wasn't actually there, he was enduring similar temperatures in Manuas, Brazil, where he had the frightening task of making his competitive international debut in the opening game of the World Cup.
Glued to the screen, I sipped my pitcher of Blue Lagoon, absorbed the distorted grumbly synths of Dario G, and admired the varied talents of Andrea Pirlo, Claudio Marchisio, Mario Balotelli (so much can change in a year) and Giorgio Chiellini. But someone else caught my eye. Who's this guy, I thought? Who is this mysterious Italian right-back making Leighton Baines look like he was forced to play football by his dad, when really he'd only ever had passion for the high jump.
Picked ahead of AC Milan's Ignazio Abate, Darmian helped his team to a 2-1 victory against Roy Hodgson's sprightly failures and has filled that position ever since.
The 25-year-old, currently with Torino in Seria A, is set to become Manchester United's second major signing of the summer, following Memphis Depay's arrival last month.
He was voted by fans as the Italian national team's Player of the Year in 2014, and looks to be a great bit of business by Louis van Gaal, who, having transfer-listed Rafael this week, is clearly in need of a new right-back.
Darmian is a very talented player whose credentials (despite my negligence) were already established prior to that hot Brazilian night. During his four years at Torino he emerged as an extremely skillful full-back, who is now admired by a host of top sides across Europe.
Here at WhatCultureSport we look at 5 things that Manchester United fans need to know about their new 12.7 million man."