7 Best Fights Of Michael Bisping's Career
It's been quite the journey for "The Count".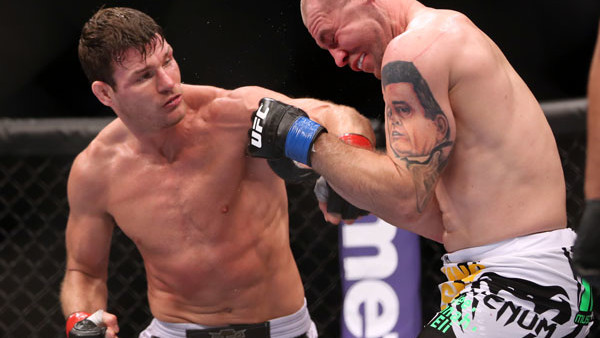 Michael Bisping has been fighting in the UFC for close to a decade, and has an incredible 26 bouts with the company under his belt. The 27th will be the first defence of his newly-won Middleweight title in his hometown of Manchester, England on October 8th.
His opponent will be Dan Henderson, a man who brutally knocked out the Brit at UFC 100 in 2009. Whilst Bisping may have lost that first encounter, he boasts the joint most-wins in UFC history, tied with Georges St-Pierre on 19.
He's had one hell of a career, but of those 19, which were Bisping's greatest?
7. Rashad Evans - UFC 78
We start this list somewhat controversially, with the first loss of Bisping's professional career.
At UFC 78, "The Count" took on fellow Ultimate Fighter winner "Suga" Rashad Evans in the light heavyweight main event of the evening. Bisping had originally been set to fight Matt Hamill in a rematch from UFC 75, in which he earned a split decision that many felt Hamill, in fact, deserved.
Evans' original opponent for the card was Tito Ortiz, whom he had battled to a draw at UFC 73. However, Ortiz was not available for the bout due to commitments to filming The Celebrity Apprentice, and Hamill was later forced off the card because of injury.
The Bisping-Evans fight itself went to the judges' scorecards in a close battle; in the end it was Rashad who came out victorious via split decision. Nevertheless, Bisping had made history as the first Briton to headline a UFC event, and had only marginally lost out to a man who just over a year later would become UFC Light Heavyweight Champion.
The reason this fight makes the list however is because it was this bout that prompted "The Count" to make the move to the Middleweight division where he has remained ever since. If not for this loss, who knows if Bisping would have ever gone on to become a UFC champion himself.