Daniel Cormier Out Of UFC 197 Fight Against Jon Jones
Another main event falls apart at the last minute.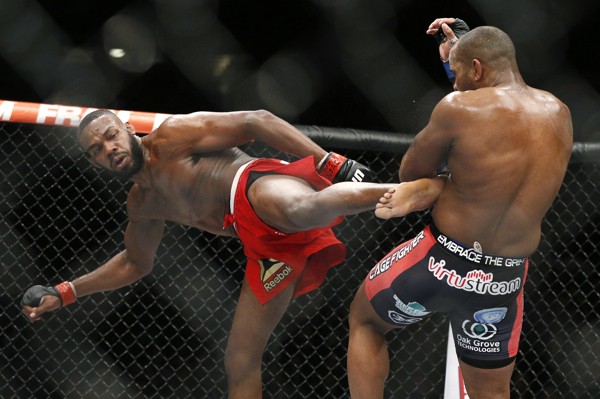 In what is rapidly transforming from frustrating trend to infuriating plague on the sport, yet another massive UFC main event is being scrapped at the last minute due to injury. The highly-anticipated light heavyweight championship fight between current title-holder Daniel Cormier and the returning former champ Jon Jones is now off the card thanks to a reported leg-related injury suffered by Cormier. The headliner of April 23rd's UFC 197 was a rematch of their previous title clash at UFC 182, which "Bones" won by unanimous decision in what would be his final fight before being stripped of his championship due to multiple legal issues. Cormier then went on to defeat Anthony "Rumble" Johnson by submission for the held-up belt at UFC 187 and defended it successfully against Alexander Gustafsson while Jones served his suspension. The 205 pound competitors are heated rivals with a very real and intense dislike of one another and the showdown is one of the more intriguing grudge matches the UFC can offer, so to have it fall apart just weeks away from the card is a huge blow for the promotion. It was already feared the fight would be in jeopardy thanks to Bones having yet another run-in with the law earlier this week, but the former champ dodged a bullet and will be able to compete on the card. There's no word on if the company will look to seek a replacement opponent for Jones or if they'll move the flyweight championship fight between Demetrious Johnson and Henry Cejudo to the main event. It's unlikely that the man many consider to be the greatest MMA fighter to ever compete will be willing to accept a non-title clash against a fill-in on short notice, which is bad news for the UFC because "Mighty Mouse" - despite being an amazing fighter - has been responsible for some of the lowest drawing main events in modern UFC history. It should be noted that a fight between Jones and Anthony Johnson would be well-received by the fans, as the two were originally set to do battle for the title prior to Bones being suspended. Rumble has already confirmed he'd be willing to step in on short notice if asked. Perhaps the coaches at American Kickboxing Academy should make a concerted effort to reevaluate their training methods as their fighters seem to be getting injured during camp more frequently than other teams. Most recently fellow AKA member Cain Velasquez was forced to pull out of his February fight with Fabricio Werdum, and UFC president Dana White has already been vocal in his criticism of the frequency of his injuries in the past. We'll update this story as soon as more news becomes available.