Every Conor McGregor UFC Fight Ranked From Worst To Best
What is The Notorious One's greatest fight?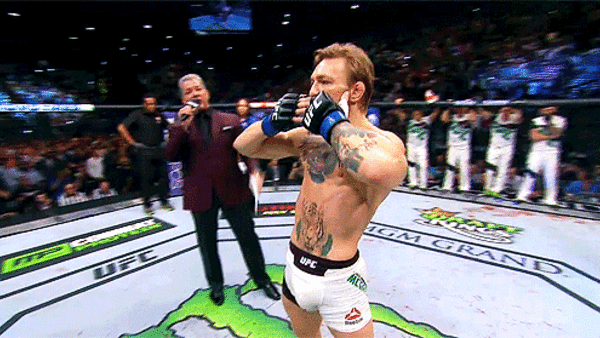 In the decades since the UFC's inception, there have been a litany of stars to grace the octagon across different eras. Not just great fighters, but names that transcend the sport in one way or another, from the founding fathers like Ken Shamrock, Royce Gracie and Randy Couture to giants of the new millennium such as Anderson Silva, Jon Jones and Ronda Rousey.
However, no star has shined quite as bright as Conor McGregor's, taking not just the UFC, but the sport of mixed martial arts as a whole, into new heights as he became one of the most recognisable people on the planet. From his shenanigans outside the cage to his world-class striking inside it, The Notorious One has no doubt turned himself into the biggest drawing card in UFC history.
His journey from debutant to dual-champion and everything around it has often been covered in glory because of his achievements, and rightly so considering the success he's had in the fight game. He's fought 12 times in the UFC, and while there have been many, many highlights, just where do his bouts rank?
What exactly are his greatest shows? And what were the fights that left a bit to be desired?
This is ranked on the overall quality of each fight, not just McGregor's individual performance.
12. Jose Aldo
Where: UFC 194
An odd starting point considering the magnitude of the contest, but it is with reason.
This was the fight everyone had been waiting for, they basically had two builds for the one fight in the same year. Two fighters at the top of their game, ready to go to war for a World Championship.
And it was all over in 13 seconds. One of the most shocking finishes in MMA history.
McGregor had knocked out a man that hadn't lost in nearly ten years. He had won 18 fights in a row, holding records as a Featherweight Champion in both the UFC and WEC.
The Irishman connected a left hand on an advancing Aldo with just his third strike of the fight, catching him flush on the jaw and dropping the Brazilian, who was out before he hit the mat. The championship was his in what can barely be called an actual contest.
Some call the fight a disappointment in what could have been an all-time classic if they got to duke it out, others call it perfect for what it was. One thing you can't deny, is that it's one of the most memorable moments in UFC history.