FA Unveil Limited Edition FA Cup Inspired FA Icon Series
Creatives celebrate the magic of the Cup...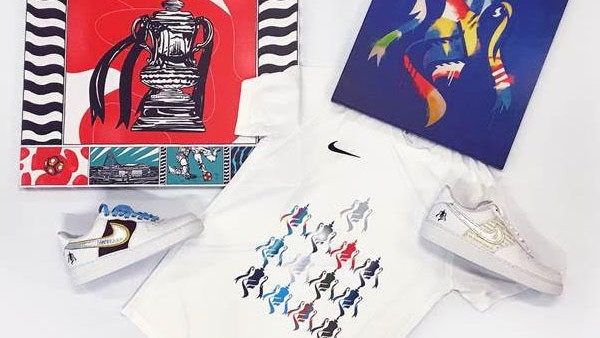 It's about that time of year again, when proper football goes away and summer stretches out like an unforgiving yawn. At least this year we've got a World Cup to look forward to.
In the meantime though, there's still the small matter of the most famous game in English football, as Chelsea and Man United face off to get their names on the FA Cup trophy.
To celebrate the showcase event and for the first time ever, The FA has handed over the iconic trophy to a select group of creatives for their own interpretations - fusing the world of football with that of art, design and fashion.
The FA's 'Icon Series' is an exclusive collection of art and fashion pieces, including limited edition Nike Air Force 1s and Nike t-shirts designed by #CupCollective members Poet and Rebecca Judd, unique artwork from street artists Graffiti Kings and animation from illustrator of the London grime scene Elena Gumeniuk. They're all a rich celebration of the creators as well as all celebrating the iconic Emirates FA Cup trophy to inspire a new generation of fans.
Here's the official release's rundown of the collection:
ICON SERIES: CUSTOMISED NIKE AIR FORCE 1s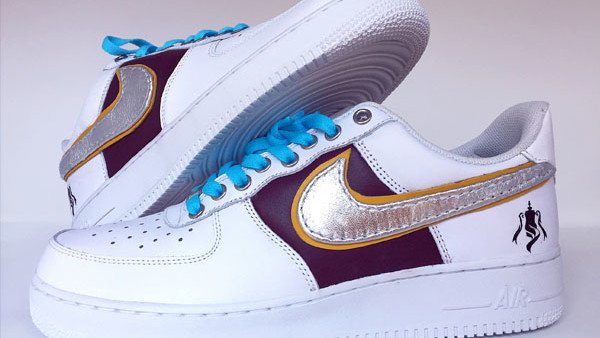 #CupCollective members Rebecca Judd (grime radio presenter) and Poet (creative and presenter) have put pen to trainer, to each design and create a bespoke pair of Emirates FA Cup inspired Nike Air Force 1s. Each pair of trainers has been hand painted and pressed, with the creatives tying in the iconic trophy with their own personal experiences of the competition for the designs, such as Poet's grass printed soles to mimic stepping onto the pitch and hints of claret and blue to represent Rebecca's family's West Ham roots.
ICON SERIES: BESPOKE NIKE T-SHIRTS
Poet has also put his creative talents to designing a series of 20 limited edition Nike t-shirts. An avid Arsenal fan, Poet's final design features 13 Emirates FA Cup silhouettes on the front to represent the 13 times his team has lifted the trophy, with the number 10 on the back as a nod to Alex James' crucial role in Arsenal's first ever FA Cup win in 1930.
ICON SERIES: GRAFFITI ARTWORK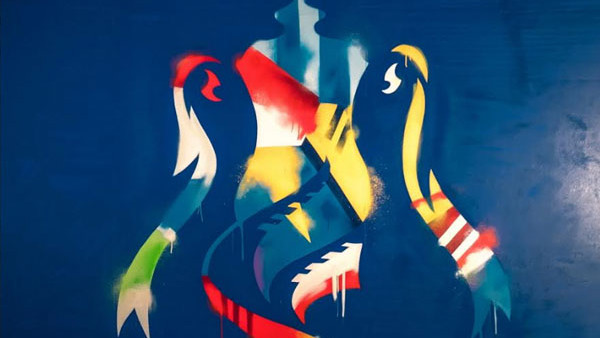 Known for their impressive murals and live artwork installations, street artists Graffiti Kings have created a nine metres squared mural of the iconic trophy silhouette. Taking inspiration from the 737 teams that have taken part in the competition this season, Graffiti Kings have intertwined a combination of team colours and kit designs into their interpretation, demonstrating that the unique competition really is 'For All'.
ICON SERIES: ORIGINAL DIGITAL ANIMATION
Dubbed the 'illustrator of the London grime scene', having worked with the likes of performers AJ Tracey and Wiley to bring their music videos to life, the #CupCollective hand-picked Ukrainian-born Elena Gumeniuk, to lend her unique illustrative talents to create an animated short showcasing her interpretation of the iconic trophy - from the teenager gaming in his bedroom, to watching the early rounds on TV, through to attending the Final at Wembley Stadium.
Follow #CupCollective across social media and keep an eye out for giveaways in the lead up to the FA Cup Final.
Create Content and Get Paid
---