McGregor/Diaz Rematch Targeted For UFC 200
The first one did huge numbers, why not run it back?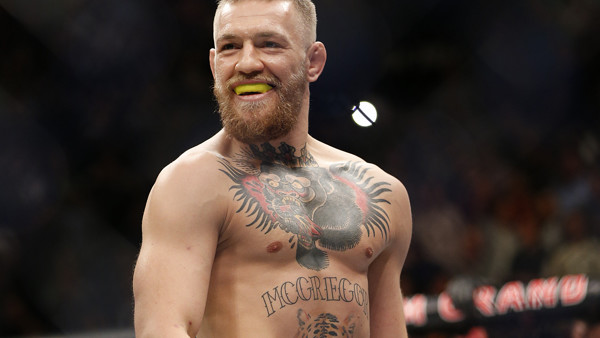 With the landmark UFC 200 event rapidly approaching, Dana White and company have yet to announce any marquee matchups for a show that is expected to be the biggest in the promotion's history, and by extension the entire sport of mixed martial arts. UFC 100 was a blockbuster event that set pay-per-view and gate records for the company and featured both Brock Lesnar and Georges St. Pierre, two of the biggest draws the fight business has ever seen. If the UFC wants to repeat similar success they're going to have to stack this card in much the same way, but the problem is many of their top names are either inactive or unavailable for the show. Featherweight champion and current #1 star Conor McGregor has been very vocal about his desire to compete at the event, and it looks like he'll be getting his wish. Despite the fact that he has yet to defend his featherweight title since winning it in just 13 seconds from Jose Aldo last December, and he has both an Aldo rematch and challenger Frankie Edgar waiting in the wings as deserving opponents, the fight the UFC matchmakers are attempting to put together is a rematch of last month's epic battle with Nate Diaz, a fight which McGregor lost by submission in the second round.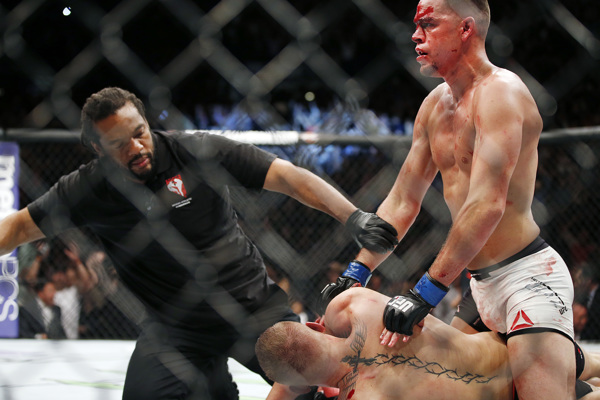 UFC 196 was tremendously successful, and while all the numbers haven't been made public yet Dana White has gone on record calling it their biggest show ever, with reports of 1.5 million buys falling just short of UFC 100's 1.6, but surpassing it in gross due to the increased price point for the pay-per-views. Apparently the promotion is looking to recapture the magic that the two men created, this time with a full camp for both fighters and months to build up anticipation for the bout. Needless to say both Edgar and Aldo are very displeased at the report, and many fight fans would rather see Conor return to 145 and defend his belt. Aldo had this to say regarding the prospect of a second fight between "Notorious" and Diaz:
"He€™s a lion when he€™s attacking, but a kitten when he€™s getting beat up. Everybody saw in his eyes that he€™s just a p*ssy that quits when he€™s getting beat up. That€™s what we saw. I€™m waiting for the rematch. It€™s the right thing to do in my opinion because there was no fight, and everybody wants to see a fight. Everybody wants to see me beating him up, and that€™s what I€™m going to do. I will run through him, that€™s a fact. I don€™t see other scenarios in my head besides going there and winning, and getting my belt back."
The previous fight between McGregor and Diaz, which took place at 170 pounds, was Conor's first loss in the UFC and derailed the insane amount of momentum he had built for himself. Perhaps the rematch is his way of trying to negate the loss so that he can move forward with his quest to be the best of all-time. Nate Diaz thinks the idea of running it back is "crazy", as he had this to say to Rolling Stone:
"I lost plenty of decisions and I've never got a rematch to this day, so that's crazy. Conor got worked over and now they're saying rematch, which sense, I understand that. I just think it's funnu because it's like, Jose Aldo didn't get a rematch."
The fight is tentatively scheduled to take place at welterweight, and if booked will join a card that thus far features announced bouts of Cain Velasquez vs. Travis Browne and Gegard Mousasi taking on Derek Brunson.
Brad's Analysis: While the fight will assuredly do insane numbers, this feels like a terrible long-term business decision for both McGregor and the UFC. If the two men once again lock horns at welterweight, the only difference will be that Nate Diaz will be coming off a full camp rather than 11 days notice, and there's no reason to think that the outcome won't be similar to the first fight. There isn't enough time for McGregor to make any significant changes to his skillset and the disparity between the two men's ground games is substantial. And there's really no compelling argument to be made for an immediate rematch outside of the financial aspect of it. Diaz was never close to losing and finished his opponent in dominating fashion.
So much of Conor's appeal was that he had had convinced fans that he was an unbeatable bad*ss who had a legitimate shot at holding championships in 3 different weight classes, and while he handled the loss to Diaz with honor and class and there were enough mitigating circumstances surrounding the fight to where his aura shouldn't be terribly difficult to rebuild, a second consecutive loss to Nate could derail him and significantly damage his drawing power. If this fight goes down, it will be because of the UFC's short-term greed and Conor McGregor's ego. In my opinion the risks of this fight, this soon after the first clash between the two, far outweigh the rewards.