Roberto Baggio At 50: 10 Perfect Goals
A perfect 10 from the perfect 10.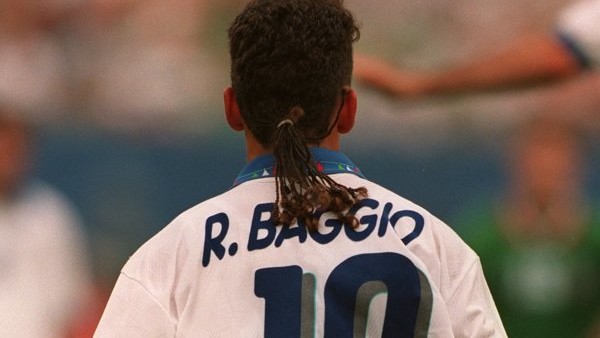 Football fans who grew up in the '90s look away now: Roberto Baggio turns 50 today. Fifty. It seems like only the blink of an eye since 'The Divine Ponytail' was tearing it up at USA '94 before missing that penalty, whilst regularly lighting up Sundays with his dazzling displays on Gazetta Football Italia, yet it's been over ten years since the legendary forward retired. The game has been poorer since.
Baggio illuminated football fields across Italy with an iridescence seldom seen in the football today, exhibiting a level of artistry which truly upheld the concept of "the beautiful game". Injuries ravaged his career and threatened to cruelly curtail it prematurely, yet Il Divin Codino defied the odds to continue playing just shy of 40, his ability to amaze never letting up.
Today, Baggio is quite rightly held in the highest of esteem as one of the sport's greatest ever players, and it's only proper to celebrate his landmark 50th birthday with a gushing appraisal of his ten finest goals - though restricting this list to that number was by no means easy. It was a pleasure trying, though.
Buon compleanno, Roberto!
10. JUVENTUS Vs. Inter (Serie A, 1993/94)
Roberto Baggio was an idol of such magnitude in Florence that it wouldn't have been a surprise to see footage of his goals framed alongside Botticelli's masterpieces in the Ufizi, so it's difficult to overstate the righteous anger of the Firenze faithful which accompanied their hero's departure for Juventus in 1990. Abandoned by their god, the £8 million move invoked an embittered hatred towards the Old Lady which endures to this day.
Baggio claimed he was forced to leave, and repeated gestures on the field in favour of the Fiorentina fans helped maintain his legendary status in Tuscany. However, there is little question it was the right move; despite his best efforts, Fiorentina could never match the heights of Juventus, and Il Divin Codino deserved to be playing in one of the world's best sides.
Baggio was a revelation in the Stadio Delle Alpi, but in 1993 a newcomer was beginning to steal the spotlight: a young Alessandro Del Piero. Club president Gianni Agnelli ascribed the burgeoning talent the nickname 'Pinturicchio' - the apprentice to Baggio's 'Rafaello' - yet the old master still had plenty to teach.
The comparison to the Renaissance painter was predicated on Baggio's elegance, though his thunderous strike at the San Siro was anything but as he led Juventus' scudetto charge against the mighty Milan. Baggio's oeuvre was defined by poise and precision, but just occasionally, he proved he had power in that ponytail too.