UFC: Chael Sonnen Says Wanderlai Silva Quit Fight Over Drug Test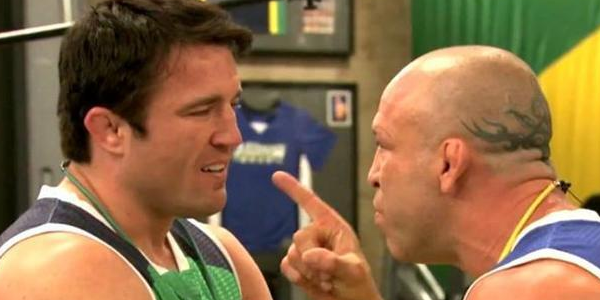 Wanderlai Silva ran away from a drug test, forcing his UFC 175 fight against Chael Sonnen to be cancelled, according to Sonnen on UFC Tonight. Sonnen had stated from the moment that his fight was announced that he believed Silva would end up backing out. Well, Sonnen was spot on in his assessment. Wanderlai will not be able to compete, officially due to a failure to get licensing in the state of Nevada. Stepping in for Silva to face Sonnen will be Vitor Belfort. Nevada Athletic Commission Executive Director Robert Bennett told
MMAFighting.com
that Silva had "ample time" to secure his fighter's license. MMAFighting also confirmed from numerous sources that Sonnen and Silva were asked to take an unannounced random drug test last week. Both guys were in town for the introductory news conference to announce the UFC 175 card. Sonnen complied and took the test, while Silva refused. Due to the refusal by Silva, that would constitute a positive drug test and not being able to get a fighter's license. Sonnen claimed on UFC Tonight on Wednesday that the Nevada Commission went to Silva's gym to drug test him and "The Axe Murderer" ran out of the gym. This was the fourth time the UFC tried to put on the Sonnen vs. Silva fight. Both guys were coaches on this season's €œThe Ultimate Fighter: Brazil 3€ which controversially included a
brawl
during filming that was initiated by Silva. Some
Reports
have surfaced that Silva had suffered a back injury in the scuffle. Whatever the reason, this long awaited fight is now off. The UFC have since released a statement on the situation confirming the fight switch: €œDue to issues related to Wanderlei Silva€™s licensing in the state of Nevada, the UFC was forced to seek a replacement opponent to face Chael Sonnen at UFC 175 on Saturday, July 5, in Las Vegas. Former UFC champion Vitor Belfort has accepted the fight with Sonnen, subject to Belfort receiving a license to compete from the Nevada Athletic Commission.€ Belfort submitted a fighter application to Nevada last week and will have a hearing on 6/17 for approval to fight Sonnen on the show.
We need more writers about Wanderlei Silva, Vitor Belfort, Chael Sonnen and mma! Get started below...
Create Content and Get Paid
---
Steve Muehlhausen
Steven is currently the lead WWE and UFC writer for BetweenTheRopes.com. Steven was a Featured UFC Columnist for Bleacher Report and a writer for MMASucka.com. Steven was also the host of the MMA show: The Fight Club Chicago, which aired for three years at various websites.
See more from Steve