What's Going To Happen At UFC 229: Khabib Vs McGregor?
"The Eagle" vs "The Notorious One". Who will earn the lightweight crown?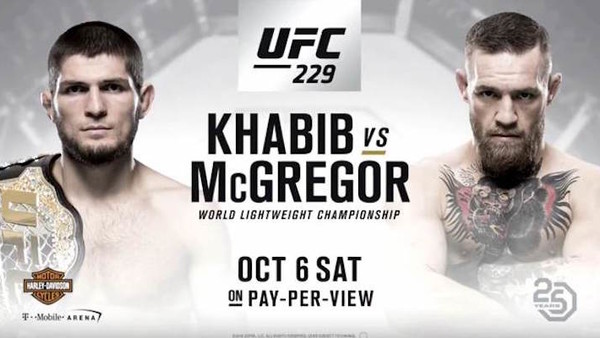 ufcOn Saturday 6th October 2018, Conor "The Notorious" McGregor will try to reclaim his spot on top of the lightweight division against the reigning champion, Khabib "The Eagle" Nurmagomedov.
The fight will see the long-awaited return of The Notorious One, this being his first MMA bout in just under 2 years. His latest MMA fight being his victory over Eddie Alvarez at UFC 205. Nurmagomedov however, is currently on a 26-fight win streak, 17 of those victories coming inside the UFC Octagon.
For those unaware of Khabib's past victories, he employs a tremendous level of wrestling to wear down his opponents and make them want to give up. Against Michael Johnson at UFC 205, he verbally broke down the Missouri native. Saying "Hey, I have to fight for the title. You know this. I told him, I don't want to smash your face, and I already beat you. You have to give up." We know that wrestling is where The Eagle is most strong, and he will look to employ this strategy against McGregor, one might think.
But The Notorious One has dealt with high-level wrestlers in the past, Chad Mendes and Eddie Alvarez to name but a few; and how has McGregor faired against these opponents? By cracking them upside the jaw with his left-hand. Conor's left-hand has been talked about for many years now, it is (statistically) his best weapon and this is what The Notorious One will look to use on Khabib come October 6th.
In my opinion, the outcome of this fight will end with a McGregor win. His moniker of Mystic Mac has really proved to be legitimate, knocking out opponents in the first round when he predicted that he would knock them out in the first round. Conor has the ability to read fighters very early on in the bout. McGregor will learn what Nurmagomedov's tendencies are and will capitalise on them, in a ideal world. But Khabib is a different kind of high-level wrestler, so whether McGregor will be able to compete with the pressure that Khabib will put on him, we will just have to wait and see.
Create Content and Get Paid
---