10 UFC Fights You Cannot Miss In August
Get ready for an entire month of violence as some of the UFC's heaviest hitters are in action...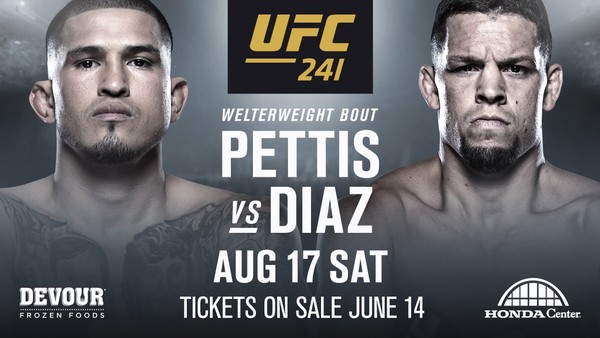 We might be nearing the end of the summer, but things are still heating up inside the UFC as we've got a bunch of fantastic fights on the horizon.
The women's divisions are well represented this month as UFC 115lb champion Jessica Andrade takes on surging strawweight Weili Zhang in China. After slamming former champion Rose Namajunas on her head and nabbing the title from her, the Brazilian will now have take on Zhang in her home country.
UFC flyweight champion, Valentina Shevchenko, is on the rise following her brutal head kick victory over Jessica Eye at UFC 238. After taking very little damage in her win, she's back in the Octagon to defend her title against MMA veteran Liz Carmouche. Most believe that this will be another flawless victory for Shevchenko, but Carmouche is a tough and crafty fighter who has competed against some of the best women in the sport.
That's not even to mention the welterweight battles between Colby Covington and Robbie Lawler or Nate Diaz and Anthony Pettis. Those two incredible bouts at 170lb are good reasons to tune into some UFC action in itself. However, if you're still not convinced by that, let us give you a few more reasons why August is going to be awesome.
10. Colby Covington Vs. Robbie Lawler - UFC On ESPN 5
Love him or hate him, you've got to give it to Colby Covington: he certainly knows how to get a reaction from people. His trolling personality has made him the biggest villain in the UFC, but he keeps on getting the job done inside the Octagon.
The American Top Team product has a fantastic mixture of relentless chain wrestling, along with a seemingly never-ending gas tank. This allows him to put a pace on his opponents that most fighters can't handle.
However, it's going to be difficult for Covington to get close to his opponent, former UFC welterweight champion Robbie Lawler, as he's likely to be hit with a barrage of knockout worthy strikes. Not only is Lawler the most dangerous opponent Covington has fought, he's also got a tidy defensive wrestling game himself.
It'll be extremely interesting to see how the former teammates do against each other and how it could change the landscape at 170lb. After all, a win for Covington will guarantee him a shot at the welterweight title.