UFC 245 Predictions
UFC end the year with a trio of high-level title fights that are guaranteed to be explosive!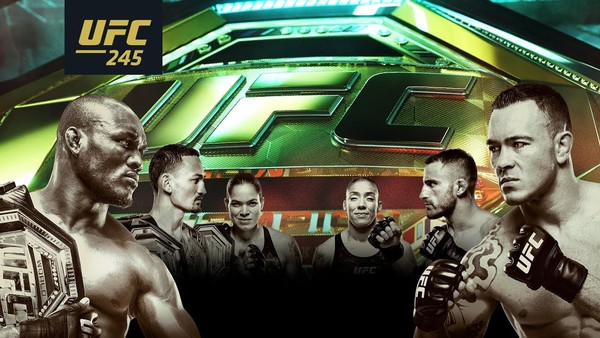 If you thought the UFC might slow things down with the end of the year quickly approaching, then you'll be pleasantly surprised to see that they've done the exact opposite. Instead, the MMA promotion's last pay-per-view of the year, UFC 245, is a jam-packed event which includes three very exciting title fights that should interest MMA hardcores and casual fans alike.
The main event is a highly anticipated welterweight title bout between current champion, Kamaru Usman, and trash-talking bad boy, Colby Covington. It's been a heated build-up between the two 170lbers, with numerous verbal jabs and brief scuffles happening since Usman defeated Tyron Woodley for the belt. However, when the cage door is locked and both men are able to finally get their hands on each other, which one of them will go into the new decade as the king of the welterweights?
Alongside them, longtime UFC featherweight champion, Max Holloway, will be hoping to make it another successful defence of his 145lb belt, but has a tough challenge ahead of him in Alexander Volkanovski.
Lastly, women's bantamweight and featherweight titleholder, Amanda Nunes, will also look to continue her run of dominance in the women's division as she rematches esteemed striker, Germain de Randemie.
That's only the cherry on the cake of the night's main card fights. Let's take a look at the preliminary card...
6. Preliminary Card Preview
While the undercard for UFC 245 doesn't evoke the same sort of giddy excitement that the prelims for UFC 244 did, it's still got some very intriguing match-ups that have the potential to be wonderfully violent. The main fight of the prelims is a tantalising welterweight scrap between heavy-handed strikers, Geoff Neal and Mike Perry. If there's ever been an MMA bout that could resemble a matador taking on a bull, then this might be the one.
Although he's become more patient in his approach, Perry's propensity to throw his game-plan out the window and fight with reckless abandon is still very much there. Neal, however, is a pin-point accurate striker who knows how to move his feet out of the way to avoid attacks, before cracking an opponent with some vicious strikes of his own. Both have different approaches to fighting, yet have the same thirst for the finish, which should lead to an entertaining bout between the two.
We've also got an extremely interesting match-up between women's bantamweight contenders, Irene Aldana and Ketlen Vieira. Aldana is rarely in a boring fight, as the Mexican is always on the offensive at every opportunity.
However, she's got an extremely tough task in stopping Vieira's hype train. The undefeated Brazilian has shown very little weakness inside the Octagon, defeating all four opponents she's faced, including former title challengers Sara McMann and Cat Zingano.
Will Aldana be able to beat the odds or will she end up another victim to Vieira's well-rounded talents?