25 Most Revealing WWE Instagram Posts Of The Week (July 8th)
Prepare for star-spangled swimwear...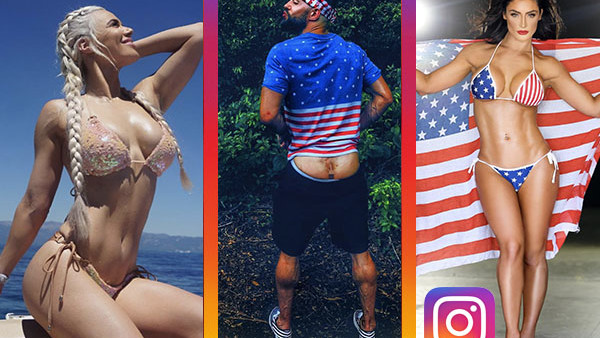 Summer is firmly in the air among the WWE superstar community. Not only is the calendar counting down towards the sunniest showcase of the year at SummerSlam in August, but the coincidental cross-pollination of July the 4th celebrations and National Bikini Day meant the timelines were fully of sun- and America-worshipping.
Around all of that, there were big rumours on Daniel Bryan possibly signing a new contract to stay with the company, Dean Ambrose possibly not returning until the end of the year and Rey Mysterio's contract may start as soon as August. There's also a suggestion that Brock Lesnar might turn up at SummerSlam after all and that WWE are trying to make Roman Reigns cool by letting him be a heel who fails at being a heel so hard that the crowd cheer him.
It's a bold strategy Cotton, let's see if it pays off.
Meanwhile, Nia Jax might have real-life heat, Dolph Ziggler might have signed a new contract and Main Event might be returning. Lots of mights, but that's just how the news wheel cranks, and through it all the superstars took to social media to show just what it live in the crazy world of pro wrestling.
This was the week in WWE Instagram...