25 Most Revealing WWE Instagram Posts Of The Week (Sept 27)
Ric Flair just got a new signature Adidas shoe?!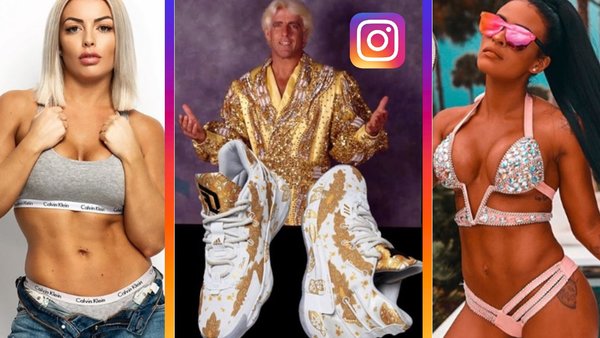 Ladies and gentlemen!
After months of ruthless aggression and enough attitude to fill an era, we have finally been introduced to the key members of the chaotic crew known as Retribution. And, oh boy, was it worth the wait.
Yet, away from the T-Bars and Slapjacks of this unintentionally hilarious unveiling, Retribution have actually become, well, entertaining...sort of. Well, on social media, at least. Shots fired at Eric Bischoff, Chris Jericho and, erm, Tom Hardy have all hit the mark and then some. So, it's just a massive shame the group's entire on-screen presentation, up until this point, most definitely has not.
What has consistently gone down a treat, however, is the outstanding storytelling going down on SmackDown in recent weeks. Now, as we close in on tonight's Clash of Champions PPV (yes, another one!) we have a bloodline battle for the ages, star-studded Intercontinental Championship ladder match and Bayley being, well, brilliant as always Bayley to thoroughly look forward to in just a matter of hours.
Sure, Raw - minus an excellent Seth Rollins, Drew McIntyre and a few others - seems to be on a mission to spoil the fun. But, let's focus on the positives. Jey Uso is challenging for the Universal Championship. Alexa Bliss is now a must-see attraction again. Oh, and over on NXT, Kyle O'Reilly only went and booked himself an NXT Championship TakeOver 31 date with Finn Balor!
If all that wrestling goodness wasn't enough, Ric Flair is about to drop a brand new Adidas shoe too. What a week...