Billy Bob Thornton's 9 Most Badass Fargo Moments
Lorne Malvo would like a word with you…
The Coen Brothers create classic characters. When a TV adaptation of their 1996 film Fargo was announced, hopes were not particularly high. Whoever took over the reins from the Coens would have a tough job creating the kind of iconic characters that populated the original film. There would be no Marge Gunderson or Jerry Lundegaard here. But creator Noah Hawley had an ace up his sleeve instead.
Casting Billy Bob Thornton as mysterious hit man Lorne Malvo, Fargo delivered one of the most chilling and memorable TV characters since Walter White. Over the ten episodes of the first season, Malvo has proved malevolent, hilarious and absolutely ruthless. Billy Bob Thornton has nailed the cool, calm charisma of a terrifying individual, who is smarter and nastier than all the other characters around him.
With his odd haircut, softly spoken demeanour and creepy ability to be incredibly still, Billy Bob Thornton's Lorne Malvo was always one step ahead of the game. No one in Fargo ever stood a chance.
Here's a list of Malvo's greatest moments from the first season:
9. Shooting Spree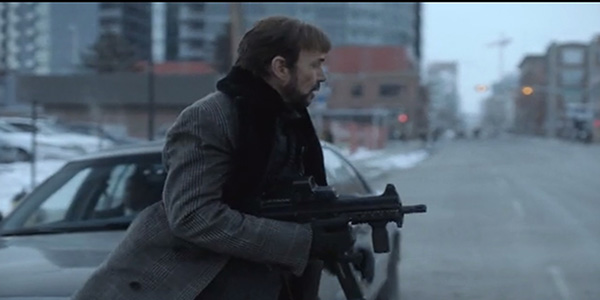 Only Malvo could pull off a shooting spree, right under the noses of two FBI agents. As Agents Budge and Pepper sit outside a building, Malvo strolls up and pulls out an automatic weapon in the middle of the street. Crossing the road right in front of the distracted FBI agents, Malvo enters the building and begins shooting. This is a character who is so bad ass, that by now (episode 7) we don't even need to see his evil deeds. Instead, we watch from outside the building as Malvo ploughs his way through and shoots everyone in sight.
By the time bodies come flying out of the windows, Malvo is making his escape. The FBI agents are too late to stop him as he coolly leaves the building by a back exit. This might be one of Malvo's boldest manoeuvres but there are way more bad ass moments to come.