10 Things WWE Fans Need To Know About The Luscious Lana
Not long ago, fans were treated to the debut of The Bulgarian Brute, Rusev. However, most male fans simply directed…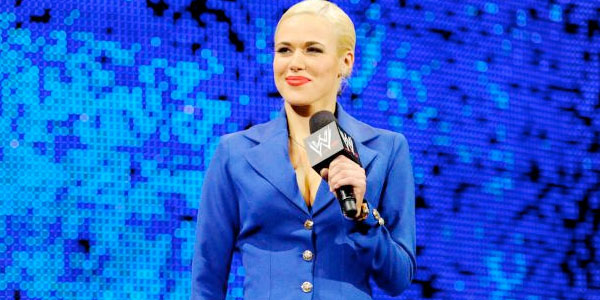 Not long ago, fans were treated to the debut of The Bulgarian Brute, Rusev. However, most male fans simply directed their eyes to the blonde bombshell that he showed up with every week. No matter how many times "Nimyaye" was supposed to be annoying, fans were intrigued with the woman we would shortly after know by the name Lana. The Ravishing Russian did her best Bridgette Nielsen to Rusev's Ivan Drago, but we all can agree Nielsen isn't touching Lana. As for Rusev, he hasn't killed Kofi Kingston or anything yet.
She has proven to be extremely capable of drawing heat despite her glamorous appearance. It's not a "hoeski" type of dislike; it's the old school way she pulls venom out of each crowd. Good Ol' Fashioned nationalism. The 100 foot graphic of Vladimir Putin, (who has never smiled ever) surely brings a smirk to even the most jaded fan.
However, the woman born C.J Perry was up to a lot of things before she became WWE's hottest foreign commodity. Lana was born, Catherine Joy Perry. She is also referred to as C.J for short. In this sense she joins the other 90 percent of the roster who don't perform under their given names, and most other divas that have no last name. She has dabbled in modeling, acting, dancing and singing. So while she tells Rusev to crush someone, know that she's more than just a valet. This is a woman who may be a very valuable asset to WWE in the coming years if she's given the opportunity.
Here are 10 things you should know about The Luscious Lana.