WWE: 10 Best Title Belt Designs In The History Of Wrestling
8. WWE/WCW US Title
Hand on heart, I couldn't call it between the two championships. The WCW title was golden and grand, and the WWE title was simply an American Flag. Both were brilliant. As for the WCW design. That's why I really liked it, pure and simple, the design.
For me, this title had elements of the old WWF Intercontinental belt, such as the shape and the banners, the Intercontinental belt that the WWE are using just now actually, but the differences, like the eagle and the small American flag just set it apart from the Intercontinental belt, especially since this title has a black strap and not a white one. As far as I'm concerned, all wrestling belts should have black straps.
The WCW US Championship was the secondary championship in WCW, after the WCW World Heavyweight Championship. The title was used in WCW up until the purchase of the company by WWF in 2001. Then it was unified with the WWF Intercontinental Championship. Edge was the last WCW US Champion, when it was unified in 2001.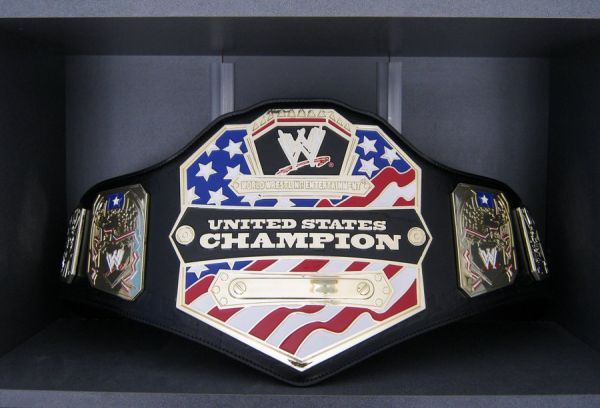 The first WWE US Champion was the late Eddie Guerrero, back in 2003 when he won a tournament to revive the title, making it once again the secondary championship, this time to the WWE Championship on SmackDown.
The new title belt design was far from subtle. We'll revive the United States Championship, what should we make the design, how about the center plate being a massive American flag, that should get the point across. That being said, it is a nice design. Again the shape of the center plate is what draws me to this belt. I'm usually highly critical of name plates on title belts, something I hated the WWE for dong to all of their belts back in the early 00's, but due to the design of this belt, it really does work. Without it, it would look like something should be in that place, and it just flows with the title design. Like I said, I couldn't decide between the two belts, even though they are very different, but that's what I think is so good about them. The WWE United States Championship is currently the quaternary title in the company, behind the Intercontinental as the tertiary championship, and World Heavyweight being the secondary championship. Due to the amount of legends that have held the United States Championship in both WCW and WWE, it is considered to be one of the most prestigious minor titles in professional wrestling. But the next championship in our list, is one of the newest minor titles, and one of the most exciting.