WandaVision Episode 7: "Nexus" Advert And Agnes' Book Explained
WandaVision's latest episode included two MAJOR references to a specific comic from Marvel's past.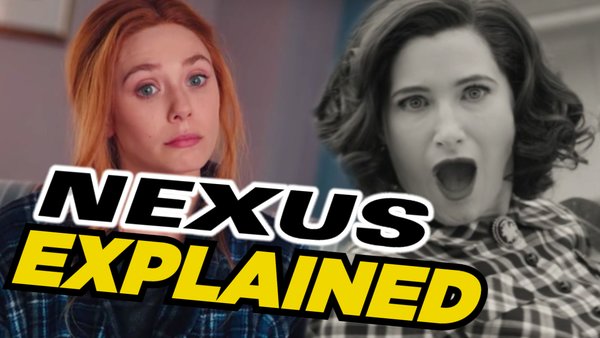 WandaVision episode seven just dropped and, surprise surprise, big things happened.
(There will be MAJOR spoilers ahead for the episode in this article, so if you haven't watched it yet, read on at your own peril.)
The first MCU series to grace Disney+ has proven to be a major success, offering a fascinating look into Wanda Maximoff (Elizabeth Olsen) and her own mental state following the traumatic events of Avengers: Infinity War and Endgame, while also laying the foundations for the upcoming multiverse-themed fourth phase of the Marvel Cinematic Universe.
Said teases took another turn with this week's episode, which not only referenced a major plot element from one of Scarlet Witch's formative arcs in the comics in the form of Nexus - the series' latest ad that focuses on a brand new antidepressant - but also included the big reveal that everyone had been waiting for: the true identity of Wanda's neighbour, Agnes (Kathryn Hahn), who is finally revealed to be the witch Agatha Harkness.
What viewers may not realise though is that these two things are inextricably linked. WandaVision has already taken a healthy dose of inspiration from the original Vision and Scarlet Witch comics of the 1980s (as well as Tom King and Gabriel Walta's 2015 Vision series), but if this episode is any indication it looks as though the series could be taking a massive leaf out of Dan Abnett and Andy Lanning's Scarlet Witch run from 1994 as well.
[Article continues on next page...]