WWE #01 By Boom! Studios - Comics Review
How does WWE's latest strip-toss fare?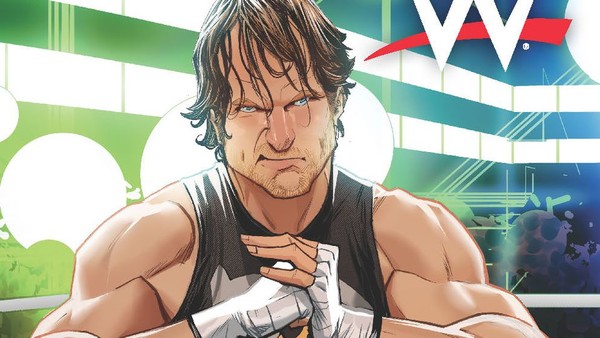 Hot off the heels of the one-shot back in November, Boom! Studios are back with their new ongoing, WWE #01. Written by Dennis Hopeless and illustrated by Serg Acuña, the first issue follows superstar Seth Rollins career, from his Money in the Bank win to his momentous victory at WrestleMania 31.
WWE have always had a rocky relationship with the comic book industry, and Mick Foley's WWE Superstars was proof of that. The comic didn't secure any remarkable recurring artists, and Foley's writing turned out to be only a touch better than his recent Raw promos. Let's not remind ourselves of the dreadful Triple H and Undertaker series, as they really should rest in peace. As for the Warrior comic...
Thankfully, it appears that Boom! Studios are changing the face of WWE comic books, with their tightly put together new ongoing. Boom! are renowned for some decent publications, such as Lumberjanes and the brilliant Giant Days, and they have a great track record with their many licenses. It's a relief to see some care put into a WWE comic for a change.
Comic book readers will be familiar with writer Dennis Hopeless, whose previous work has included the controversial Avengers Arena and Spider-woman. He's a decent asset for Marvel, and here it's crystal clear that Hopeless is a big fan of the WWE, as he completely nails the characterisation of the wrestlers showcased throughout.
It's a wise move by Hopeless to focus on one of the best wrestlers of this era, as Seth Rollins struggles to gain the appreciation of his peers whilst wrestling to make a name for himself. It focuses on the best times of his career yet, and one of the best feuds of 2014, opposite Dean Ambrose. Ambrose makes a few comical appearances in the panels of WWE, which will leave readers cackling just like the great Crossfit Jesus himself.
Dennis Hopeless picked what was arguably one of the better storylines in WWE from the past few years, and whilst the breakup of The Shield is still a sore subject for some, it's the perfect material to build upon within the comic. The comic ditches fantasy elements for a more grounded approach, whilst relying on the kayfabe universe created around the company. Thanks to that interpretation, it plays off wonderfully.
It's a breath of fresh air to see a talented artist such as Serg Acuña on a WWE title, as Acuña actually has an understanding of basic anatomy, unlike previous artists. Wrestlers look just as built as they do in real life, whilst fitting into the fantasy realms of a comic book. Acuña captures the in-ring energy perfectly too, managing to replicate that insane RKO counter at WrestleMania 31.
Hopefully, comic book readers will get to see more of Serg Acuña artwork in the future, because he's clearly talented. With a style slightly similar to Sean Murphy albeit with cleaner line work, Acuña is more than welcome to stay on-board for this new title.
The comic doesn't look flat, either. The colourist, Doug Garbark, brings Acuña's artwork to life with vivid colours and a palette that's fit well within the WWE universe. It's something unseen in previous WWE efforts, but Garbark accomplishes something that's rather pleasing to the eye.
WWE #01 also features the continuation of The New Days' time-travelling shenanigans, where they were last left witnessing a brawl between a prehistoric Ric Flair and a Tyrannosaurus Rex. Written by Ross Thibodeaux with artwork from Chew artist Rob Guillory, the two-page story is utterly ridiculous and perfect for the younger readers.
Again, the story is loosely based on one bizarre promo from Raw some time ago, but for the whacky superstars, the it's ideal. Guillory also matches the colourful personalities with his unique style. Hopefully, smaller stories will be a regular thing for this title.
This new ongoing boasts a selection of superb variants too, with 15 different covers focusing on favourites from the past few decades of WWE. Be sure to seek out the Razor Ramon cover by Jamal Campbell, and Oliver Barrett's Finn Bálor shop exclusive cover.
Boom! Studios' new ongoing is a superb little treat for WWE fans, who deserve something special after having to endure so many countless titles that miss the mark. It might be a little inaccessible to readers who aren't wrestling aficionados, but it's a perfect treat for fans of all ages.
It's a strong debut from Boom!, who have managed to put together an enjoyable title with a talented creative team. If it manages to maintain this level of charm, writing, and artwork, fans are in for something special. Believe that.
9/10
Create Content and Get Paid
---