10 Desperate Ways To Market Horror Movies
9. Showcase Torture & Death - Captivity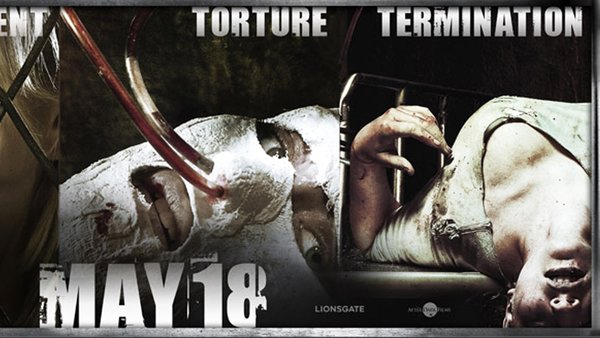 While Saw is credited as being the launching point for the torture porn subgenre, it was the films that followed James Wan's 2004 picture that really turned audiences off.
In fairness to Saw, it had a 'less is more' approach and didn't actually physically show most of its terrors. For other movies that came after it, they scrapped that approach and piled on the gore and depravity as a way to shock.

By 2007, torture porn was taking its last significant breaths, yet that didn't stop Roland Joffé's Captivity from doing its best to whip up a frenzy with its violence and sinister themes - all highlighted by a truly pathetic ad campaign.
Running across Los Angeles billboards and New York taxicabs, Captivity used four images to sell itself. Labelled "Abduction", "Confinement", "Torture" and "Termination", this artwork depicted star Elisha Cuthbert in various stages of despair - a gloved hand over her face, stuck behind a chain fence, her face covered and tubes up her nose, and being dead.
This was gross, classless and led to a huge public backlash that resulted in all ads being removed, distributor Lionsgate putting all of the blame on production company After Dark Films, After Dark Films proclaiming these posters as an "accident", and the release of the movie delayed.