10 Hilariously Obvious Stunt Doubles Who Ruined Their Scenes
9. Terminator 2: Judgement Day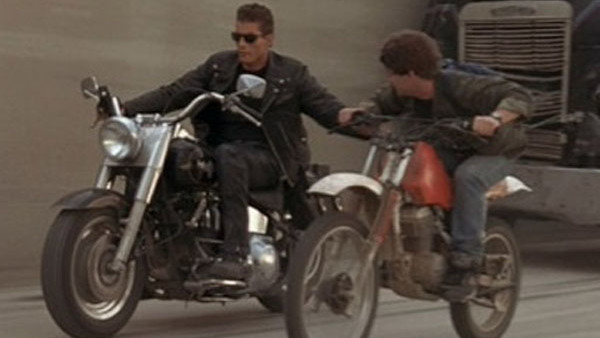 A classic scene from Terminator 2 here, with Edward Furlong and Arnold Schwarzenegger riding side by side as a truck carrying Robert Patrick's villain attempts to smush them. Except, that's not right, is it? Clearly unfazed by the problem posed by the star of the high-speed scene being a mere child, the stunt team cunningly got the full-sized adult stunt double to simply crouch slightly.
If only Peter Jackson had thought of something so simple, he might not have had to spend all of New Zealand's money on special effects to make sure the Hobbits in the Lord Of The Ring looked as convincingly short as the stunt-man does in the image above.
The be fair, Arnie's double isn't half bad - even if he looks a lot more like Jean Claude Van Damme than Schwarzenegger - but then you can't always keep track of which 80s and 90s action icon is starring in your film, so that one's probably forgivable. What is less so is the horrendous wig adorning the top of not-Furlong's head, which actually draws so much attention to the double that his inauthenticity is made even more obvious.
At least it's a step up from the dummy infamously used during the pay off of Arnie's iconic "I'll Be Back" scene in the first movie.