10 Hollywood Blockbusters That Were Saved By The Overseas Box Office
When it takes the rest of the world to bail out Hollywood...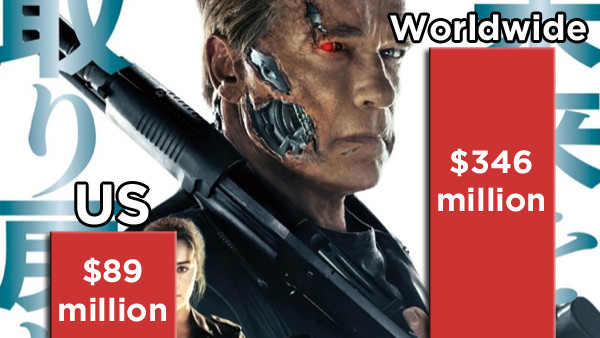 Even just ten years ago, Hollywood was mostly dependent on the success of its productions in the United States. While strong international box office grosses were never taken for granted, a movie had to make most of its income at U.S. theatres in order to become a hit. In the past several years, however, the international box office – particularly in large countries like China and Russia – has become increasingly more important. While Hollywood studios still make more money per ticket from U.S. moviegoers, many films that cost $150 million or more to produce can only become profitable with the help of overseas grosses.

Despite Hollywood pulling the strings of most of the worldwide movie industry, what U.S. audiences like and what international audiences like sometimes does not correlate. Action and horror movies tend to do extremely well with international audiences, and movie stars whose popularity have dipped in the U.S. can still be box office titans overseas. Because of this, movies that underperform in the U.S. – even those that are considered box office bombs domestically – can become big hits once international box office figures are taken into account. Some of these movies are even in line to receive sequels thanks to strong overseas ticket sales.
The following ten Hollywood films were are saved from financial disaster by making at least seventy-five percent of their worldwide grosses from the international box office.
10. Pacific Rim (2013)
Worldwide Box Office: $411 million (75.2% Overseas)
The sci-fi monster movie Pacific Rim quickly gained a cult following in the U.S., but American fans were worried when it only barely broke $100 million at the U.S. box office on a $190 million budget; that meant that the possibility of a sequel from visionary director Guillermo del Toro was dead.
When a sequel was announced in June 2014, fans had China to thank. Pacific Rim grossed a massive $112 million in China, which pushed the film to profitability. It also grossed $20.6 million in Russia, $18.2 million in South Korea, and $16.1 million in del Toro's native Mexico. On top of that, it was well-received in many smaller Asian regions, like Malaysia ($5.1 million), Hong Kong ($4.1 million), the Philippines and Thailand ($3.8 million each).
All of these figures proved that while Pacific Rim wasn't a big U.S. box office hit, it was a worldwide favourite. It later became a strong seller on DVD and Blu-ray in the U.S., so when the sequel is released in 2017 it will interesting to see if it performs better at the U.S. box office,