10 Horror Movies That Missed Out The Money Shot
9. Edgar Vs. Sam - Lost Boys: The Thirst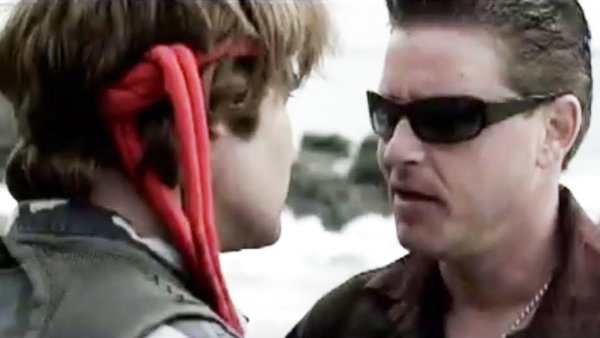 While Lost Boys: The Tribe was absolutely not worth the 21-year wait for a follow-up to Joel Schumacher's iconic 1987 picture, one of the few bright spots of the sequel was the post-credits reintroduction of Corey Haim's Sam Emerson.
Having been absent as Corey Feldman's Edgar Frog once again fought the good fight against a vampiric horde, Sam rocks up after The Tribe ends. After Edgar had teamed with the cousins of Haim's character to save the day here, he has a meeting with Sam midway through the film's credits. With Sam himself now a vampire, the two exchange quips before lunging at each other as the scene ends.
Ahead of threequel Lost Boys: The Thirst two years later, the initial plan was for Sam vs. Edgar to be the main driving point of the plot. That ultimately didn't happen, with the Sam character instead killed off by the time of The Thirst. With that, audiences were deprived of the big war between these two former BFFs.
In reality, Corey Haim reportedly turned down the offer to return for Lost Boys: The Thirst, with him stating how he'd maybe return for a fourth film down the line, with the possibility of Sam's demise being a fake-out. Unfortunately, Haim would pass away in March 2010, shortly after initial production had wrapped on The Thirst.