10 Movies That Wasted Their Best Weapon
9. The Noisy Cricket - Men In Black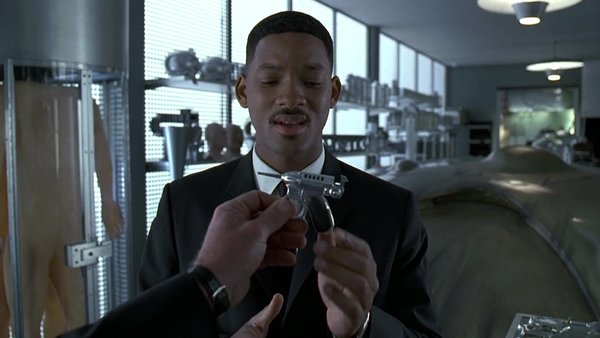 The Noisy Cricket is a teeny, tiny gun handed to Agent J (Will Smith) as his starter weapon in Men in Black, much to his initial disappointment.
But J soon realises the comically disproportionate power of the weapon when he fires it at a fleeing Edgar the Bug (Vincent D'Onofrio), causing all the fiery damage of a moderately-sized explosive, with accompanying recoil which sends J flying backwards several feet.
Despite the colossal damage it deals, J oddly doesn't use the Noisy Cricket throughout the rest of the movie, most bizarrely keeping it in his pocket during the final battle with the bug, relying on Agent K (Tommy Lee Jones) to finish the job from with the bug's stomach instead.
If J had just popped him in the face with the Noisy Cricket from a sensible distance, they could've both avoided being drenched in bug juice.