10 Things We Learned From Oliver Stone On Joe Rogan Experience
The legendary film director spoke to Rogan about Scarface, Platoon and spiking his father's whiskey.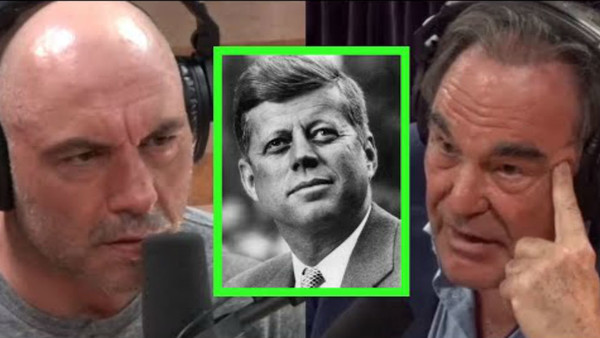 Though the world seems to be getting crazier and more unpredictable by the day, that hasn't stopped The Joe Rogan Experience train from moving forward.
Rogan has continued to invite a variety of compelling individuals onto his world famous podcast throughout this unprecedented period and he may have just spoken to one of his most captivating guests to date in the form of Oliver Stone.
The Academy Award winning director and writer has lived what feels like a hundred lives during his 70+ years on this planet.
From experiencing the Vietnam War first-hand to being thrown into prison for smuggling drugs, Stone certainly has a tale or two to tell about his fascinating life. He's also been responsible for some of the most iconic movies ever made, writing the screenplay for Scarface (1983) and Conan the Barbarian (1982) whilst also writing/directing films such as Platoon (1986), Wall Street (1987), JFK (1991) and Natural Born Killers (1994) to name but a few. He's also just released a memoir called Chasing the Light.
Thankfully, the filmmaker was in a talkative mood during his near two hour sit down with the comedian-turned-podcast sensation. So, here's what we learned from his riveting appearance on the JRE.
10. What He Thinks Hollywood Gets Wrong About War
It's no secret that Hollywood has a habit of dialling things up to 11 for the sake of making a movie more entertaining.
This is something which Stone admits particularly frustrates him about watching the majority of war films he sees on the big screen.
Due to experiencing a legitimate war up close, various things like unrealistically intense fire power or the enemy being a lot closer to soldiers than they were in real life stick out to Stone more than they would the average filmgoer. Although he does admit that he has been known to do this on occasion. However, he feels newer projects are 'way off' when it comes to what actual war feels like.
He also revealed that the Rambo films drive him crazy (though he did enjoy the first one) and Mark Wahlberg's Lone Survivor (2013) is a film he classes as 'way overdone'.
Stone also goes into detail about how he feels Pentagon endorsed movies don't accurately depict how frequently soldiers were wounded from friendly fire accidents, telling Rogan that he thinks around 15-20% of the American casualties in the Vietnam War were from friendly fire.